Richard Garriott Interested In Making More Ultima With EA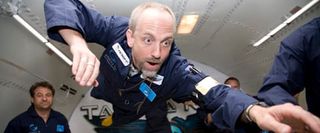 Richard "Lord British" Garriott would love to work on his old role-playing game series Ultima again. He'd even be willing to collaborate with EA, the publisher who currently owns the series and who shuttered his company Origin Systems in 2004.
"I hope that Ultima does survive forever, yet I also, of course, have my own very particular ideas for what Ultima can and should become over time and so we'll see if they do things quite the way I would do them... since I'm not there at the moment," Garriott told Industry Gamers.
While Garriott says he'd be happy to partner with EA on a new Ultima, EA isn't showing much enthusiasm.
"We would be open to [working with EA]. In fact, we've had some discussions at what I'll call very high levels, but the individuals who are currently shepherding the property don't seem to be particularly interested in that, so we'll see," Garriott said. "Who knows? You never know what's going to happen in the future... the doors always open if they were ever interested."
EA still operates the MMORPG Ultima Online, which launched back in 1997. Their subsidiary studio EA Phenomic released a browser-based, multiplayer strategy game called Lord of Ultima. However, there hasn't been a single-player Ultima since Ultima IX: Ascension in 1999.
In the meantime, Garriott is moving on without the Ultima license. Earlier this year he revealed that his company Portalarium is creating Lord British's New Britannia, an RPG for social media and mobile platforms. No release date has been set yet.
Staff Writer at CinemaBlend.
Your Daily Blend of Entertainment News
Thank you for signing up to CinemaBlend. You will receive a verification email shortly.
There was a problem. Please refresh the page and try again.