Shenmue 3 Teased With Sonic And All-Stars Racing Transformed Ryo DLC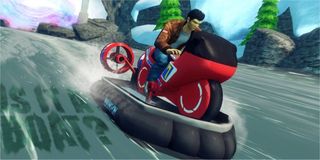 Let the trolling begin... or continue. It depends on how you look at it. The trolling of Shenmue 3 has become a parody all its own and Sega is looking to keep it going by making hints about the threequel that's likely never to happen, by teasing them with the upcoming DLC for Sonic & All-Stars Racing Transformed.
Hardcore Gamer spotted the news from Sega's official Twitter account, where they show off a series of photos of Ryo Hazuki arriving in Sonic & All-Stars Racing Transformed.
The photos showcase Ryo's kart racing form, his flying transformation and his boat transformation... it's exceptionally ridiculous given that he's literally driving a Sega arcade cabinet of Outrun, the classic arcade racer. He's also flying in the arcade cabinet of Space Harrier and the cabinet for Super Hang-On.
If any of you have played Shenmue 2 you would know that all three of those transformations were included in the original game as playable arcade titles – relics of Sega's old arcade days.
As noted by Hardcore Gamers, there are small clues in each of the screenshots, with the first showing a license plate with "Shen 3" on it. A clever troll if ever there was one.
Even if there is nothing whatsoever to do with Shenmue 3 and this bit of DLC is just an homage to one of the most beloved video game failures in the history of the industry, there's no love loss. It's a long shot if Shenmue 3 ever became a reality and Sega is likely to just keep teasing it the way that Valve teases Half-Life 3.
This would also make this the next bit of DLC from Sega following the controversial Yogscast DLC that some gamers felt was overpriced and underwhelming. However, with Ryo this should go over quite well with the community given that Ryo was already a prime-time character from the original Sonic & Sega All-Stars Racing.
There's no date on when Ryo will arrive as DLC for Sonic All-Stars Transformed or if he's going to be made available for all platforms or just the PC, but fans of the off-beat adventure game that helped shape Sega's tenure during the console wars of the late 90s and early 00s
As for Sonic & All-Stars Racing Transformed, it's a pretty cool game that has managed to make waves for being a true rival to the Mario Kart series.
You can pick up a digital copy of Sonic & All-Stars Racing Transformed and we'll keep you posted on when Ryo makes his appearance in the game as a downloadable character.
Staff Writer at CinemaBlend.
Your Daily Blend of Entertainment News
Thank you for signing up to CinemaBlend. You will receive a verification email shortly.
There was a problem. Please refresh the page and try again.