SimCity Offline Mode Launches Today, Cheat Codes Announced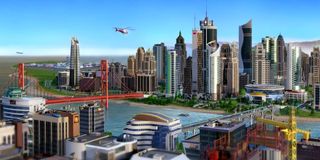 Today Maxis is releasing Update 10 for their 2013 SimCity reboot. This patch removes the widely despised online requirement for the game.
The release of the offline mode ends a rocky first year for SimCity. The game's launch in March 2013 was a disaster due to widespread server outages. Because SimCity was online-only at the time, the server problems prevented new owners from playing altogether. Maxis insisted that an offline mode was impossible but was quickly proven wrong by one of their own employees.
Maxis gave a free game to SimCity buyers shortly after launch but that didn't cool tempers. A month after SimCity's release, publisher EA was named Worst Company in America for the second year in a row. The botched launch of SimCity was mentioned as one of the major reasons for the "honor." In October, after months of silence on the issue, Maxis quietly announced that they were considering a single-player mode.
You can play Single-Player mode for SimCity as soon as you download Update 10. After that, you won't need an active Internet connection for the game. You can put Origin in Offline mode and then access SimCity's single-player.
"Single-Player Mode allows for a multi-city Single-Player experience without requiring an internet connection," Maxis explained on Reddit. "All region maps are available in Single-Player Mode. Since Single-Player Mode does not require a persistent internet connection, Leaderboards, Citylog, Achievements, Friends List, Player Profile, the Region Wall, and region invites are not available in Single-Player Mode."
If you're playing Single-Player mode, you can still access the Global Market to sell resources. However, the prices of these resources won't change based on other players' activity. Instead, their prices are fixed.
The original multiplayer experience is still intact. Downloadable content purchased for multiplayer can be used in single-player. You won't be able to transfer regions from single-player to multiplayer or vice versa, though.
Single-player regions are saved locally, not on a server. Saves can be found at "\Documents\SimCity\Games~ID NUMBER~\" on PC and on Mac at "Go->Documents->SimCity -> Games -> ~ID NUMBER~." You'll have to manually move the files if you want to play the game on a new machine. Saved games can be transferred between the PC and Mac version.
Existing cheats can be used in Sandbox regions when you're playing Single-Player mode. If you're playing non-Sandbox games, these cheats are available:
Add §10,000 to City budget. Windows: CTRL + ALT + S, OS X: CTRL + ALT + S
Add §5,000 per hour to City budget. Windows: CTRL + ALT + S, OS X: CTRL + ALT + S
Add §10,000 to City budget. Windows: CTRL + ALT + S, OS X: CTRL + ALT + S
Maxis is currently in the process of deploying Update 10. You can get updates on their progress at the game's official forum.
This is turning out to be quite a day for PC gamers. This morning, Blizzard shut down the notorious auction houses for Diablo 3. Is today "National Fix Your Game Day" or something?
Staff Writer at CinemaBlend.
Your Daily Blend of Entertainment News
Thank you for signing up to CinemaBlend. You will receive a verification email shortly.
There was a problem. Please refresh the page and try again.