Sims 3 World Adventures Expansion Pack Announced, First Screenshots Revealed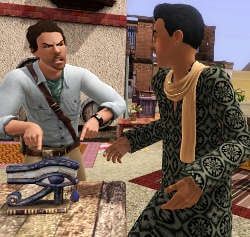 The Sims 3 is two months' old now so some of you might be getting tired of it right now. As if sensing that their game was losing its crack-like hold on you, EA has announced that an expansion is on the way.
The Sims 3 World Adventures will ship to retailers on the week of November 18th, 2009. The expansion allows your Sims to travel to a variety of real-world locations across the globe. Here's the list of features from EA:
Accept challenges, find treasures, discover what's lurking in hidden caves and more.
Explore famous landmarks in China, Egypt, and France.
Learn new skills like photography and pursue new opportunities.
Meet new Sims from exotic locations and share their cultures.
Customize your Sims homes with new styles & artifacts from their adventures.
Get $10 worth of free SimPoints for The Sims 3 Store, and additional online features to be announced.
Exclusive online content will be available at the time of the expansion's launch. No details on that yet. A mobile version of World Adventures will be released for the iPod Touch, iPhone, and other select phones in early 2010.
Image 1 of 3
Image 2 of 3
Image 3 of 3
Staff Writer at CinemaBlend.
Your Daily Blend of Entertainment News
Thank you for signing up to CinemaBlend. You will receive a verification email shortly.
There was a problem. Please refresh the page and try again.