Skyrim Dragonborn PS3, PC Release Date Scheduled For 2013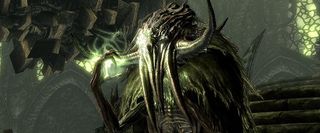 Tomorrow Bethesda will release the Dragonborn DLC pack for Elder Scrolls V: Skyrim on Xbox 360. PS3 and PC players will unfortunately have to wait until the new year to try out this new content.
Dragonborn is set on the island of Solstheim, previously seen in Elder Scrolls III: Morrowind's expansion pack Bloodmoon. Players will battle Ash Spawn, Rieklings, and even the first Dragonborn. They'll acquire new equipment and powers along the way. You can get a closer look at the content by checking out the screenshots and trailer.
The past two DLC packs for Skyrim, Hearthfire and Dawnguard, were released on the Xbox 360 about a month before the PC. This is due to an exclusivity agreement between Bethesda and Microsoft. This agreement was only supposed to apply to two DLC packs, though, so it's surprising to see a staggered release for Dragonborn as well.
The PS3, meanwhile, hasn't received any DLC for the game yet. The company admitted earlier this year that they're having issues bringing the new content to that console. Bethesda's announcement of a 2013 release for Dragonborn on the PS3 suggests that they've figured out those problems. Perhaps this means the older DLC will finally come to the PS3 as well?
Bethesda noted on their blog that they've supported Skyrim more than any other game they've made. They also mentioned that they've got additional content on the way, with more details coming next year.
Update: Bethesda has announced the DLC will hit the PS3 and PC in February.
Staff Writer at CinemaBlend.
Your Daily Blend of Entertainment News
Thank you for signing up to CinemaBlend. You will receive a verification email shortly.
There was a problem. Please refresh the page and try again.