Skyrim DLC Coming To PS3 In February, PC Dragonborn Release Date Announced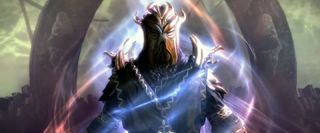 In February PC and PS3 owners will get all of the Elder Scrolls V: Skyrim DLC that they're missing. In the case of the PS3, that means the Dawnguard, Hearthfire and Dragonborn add-ons. They'll be offered at a discount, too.
Dragonborn, which takes players to the island of Solstheim, will arrive on Steam on February 5th. It will be available in English, French, Italian, Spanish and German on that platform. The PS3 release date wasn't mentioned but Bethesda says Dragonborn is first on deck. The new content will be accompanied by Patch 1.8.
Dawnguard and Hearthfire will hit the PS3 later that month. Again, no specific release dates were announced. They're still working with Sony to get everything finalized.
Bethesda has taken such a long time to get the DLC onto the PS3 because of development issues. They simply couldn't find a way to get them to perform optimally on that console. To compensate PS3 owners for the long wait, Bethesda will be offering each DLC at a 50% discount through PSN for the week after launch.
"Over the last year, it's been a treat for us to work on new content for Skyrim, and we're excited that it will soon be available for everyone to explore. Thanks for all your support and sharing your adventures with us."
Dragonborn was first released in December for Xbox 360. That console has received all of the game's DLC first thus far due to a contract between Bethesda and Microsoft.
Staff Writer at CinemaBlend.
Your Daily Blend of Entertainment News
Thank you for signing up to CinemaBlend. You will receive a verification email shortly.
There was a problem. Please refresh the page and try again.