Someone Built A Working Pac-Man Cabinet Inside Minecraft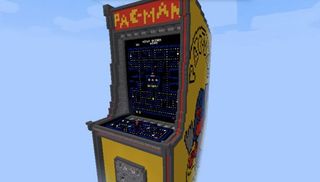 As far as I can tell, everyone who plays Minecraft is a genius-level mechanical engineer. News stories about another should-be-impossible creation have become commonplace, and Minecraft players just laugh them off with the kind of casual indifference that's only justifiable for Stephen Hawking's peer group.
This week, for instance, a Washington, D.C. resident who goes by MrSquishyYT unveiled a working Pac-Man cabinet that only exists in Minecraft's virtual universe.
Yeah. He programmed a video game inside of a video game. Check it out:
The project took MrSquishyYT over year to produce, but his level of detail is incredible. The cabinet utilizes the original sound effects, and anyone who's ever touched a Pac-Man machine will automatically understand the controls. Plus, he's managed to recreate the artificial intelligence settings from the original arcade game.
Here's how MrSquishyYT describes the project:
Welcome to Pac-Man! Over a year ago I set myself the challenge of creating a fully functional Pac-Man minigame in Vanilla Minecraft using the same ghost AI as the original Pac-Man game. After many hours and attempts, I've finally managed to create a map that manages to accomplish this, and much more!
Features include:
Full ghost AI identical to the real Pac-Man game
All original sound effects
Smooth movements for all ghosts and Pac-Man
Directional updates for all ghosts and Pac-Man
Live score and high score updates
Edible fruit (2 per round)
Functional side tunnels
Wiggly joystick
Fast resets
Part of me wonders how MrSquishyYT's Pac-Man cabinet stacks up against some of the other in-game inventions that we've seen. I'm not a Minecraft engineer myself, so it's difficult for me to gauge a project's difficulty, because it all looks like wizardry.
In 2011, one Minecrafter created a playable guitar, while another made a 3D printer. And last year, we saw a 32-bit calculator and a working computer. Plus, lets not forget about the Starship Enterprise, King's Landing, the entire country of Denmark, and a slew of equally ridiculous creations.
So, even though MrSquishyYT's Pac-Man machine is impressive, I have no idea how to rank its importance within the Mincecraft community. Who wants to fill me in down in the comments?
If you'd like to download MrSquishyYT's creation, head over to the MineCraft Forums.
Your Daily Blend of Entertainment News