Sonic Generations Launch Trailer Pays Tribute To 20 Years Of Hedgehog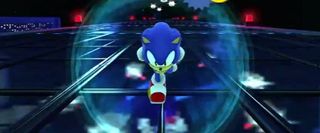 Sonic Generations will be arriving this week throughout the world. To hype the launch, Sega has unveiled a trailer showcasing both the retro and modern versions of Sonic.
In Generations, Sonic's birthday party is interrupted by a new enemy who sends his friends back in time. Sonic teams up with his Classic self to rescue them. The two Hedgehogs will travel through Sonic's history - the Classic, Dreamcast and Modern eras - to set things right.
The game's levels are inspired by various Sonic titles. They try to replicate the gameplay experiences of the different eras as well. For example, Classic Sonic's levels are solely 2D and feature old-school moves like the Spin Dash.
Generations will launch on November 1st in North America and on the 4th
Staff Writer at CinemaBlend.
Your Daily Blend of Entertainment News
Thank you for signing up to CinemaBlend. You will receive a verification email shortly.
There was a problem. Please refresh the page and try again.