Sons Of Anarchy Video Game Now Available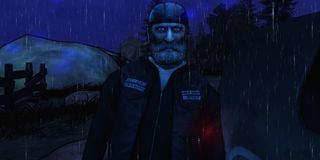 The Sons of Anarchy television show is over but the video game is just getting started. The first episode of Sons of Anarchy: The Prospect is now available for purchase.
The Prospect is a ten-episode series. It takes place in Oregon and centers around a never-before-seen chapter of the Sons of Anarchy motorcycle club.
"You play the role of Clint Lancet, a young man trying to avoid the outlaw lifestyle in Lincoln, Oregon, home to a Sons of Anarchy motorcycle club (SAMLIN)," says the official synopsis on the App Store. "There's nothing 'Charming' about Lincoln, a decaying town on the precipice of economic collapse. Clint's future is in your hands as you guide his actions and decisions within the dark and disturbing world of SAMLIN."
While the story doesn't focus on the cast of the television show, the developers promise that we'll see some familiar faces. The FX series' creator and writing team assisted with The Prospect so the cross-over moments should hopefully feel authentic.
Like any good Son of Anarchy, Lancet will do a healthy amount of riding and shooting people. There's also a mixture of puzzles and other minigames to complete. The choices players make throughout the game will have consequences in later episodes.
While the game's available on iPhone and iPad, you'll need to have a fairly new mobile device to run it.
"This game is compatible only with iPad 4th generation, iPad Air and iPad Air 2, iPad Mini Retina and iPad Mini Retina 2 and iPhone 5, 5c, 5s, 6 and 6+. IT WILL NOT RUN ON EARLIER DEVICES, including: iPad 3, iPad 2, iPad 1, iPhone 4S, iPhone 3GS, iPad Mini 1st generation, and iPod Touch."
The first episode costs $1.99 to purchase. The $14.99 Season Pass will give you access to the full run of the series. I'd recommend just trying one episode before throwing any more money around. Or maybe you should just watch a "Let's Play" first. The reviews on the App Store currently average out to two stars so not everyone's fond of it. Strong TV-to-game projects like The Walking Dead and Game of Thrones are unfortunately the exception rather than the rule.
Image 1 of 4
Your Daily Blend of Entertainment News
Staff Writer at CinemaBlend.