Star Citizen, Eidos Montreal, Oxide Games Support AMD's Mantle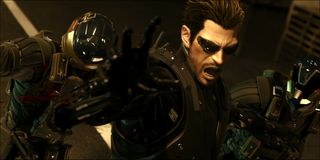 Oh shazaam, PC gaming just got three more developers to join the ranks of console-styled proprietary hardware optimization courtesy of AMD's new Mantle API, a low-level coding service to allow developers to take advantage of every single cycle, shader, shadow and pixel grain from your GPU like never before.
Gamefront caught wind of the news and made note of the fact that Cloud Imperium Games, the makers of the upcoming AAA PC title Star Citizen, have joined AMD's ranks of supporting Mantle, along with Eidos Montreal, the makers of Deus Exu: Human Revolution and the upcoming Thief, and Oxide Games, who is working on a next-generation game engine called "Nitrous".
David Anfossi, studio head, Eidos-Montréal, commented about supporting AMD's new API, which will help game developers achieve near 1:1 proper optimization of software to match AMD's GCN powered Radeon cards, saying...
Mantle was part of AMD's new software roll-out to match their new R9 290X high-end GPUs, which are designed to compete in performance with Nvidia's GTX Titan brand but at a much lower cost. The Mantle API helps designers get the most out of AMD's hardware by being able to bypass a lot of software, middleware and third-party API bloat and directly code to the graphics processor for the most optimized performance that could theoretically be made for running graphics-heavy software.
Ritche Corpus, director of ISV gaming and alliances at AMD commented about the news, saying...
No matter how you cut it, this is superb news for gamers. As Eidos, Cloud Imperium and Oxide will join DICE, EA and Activision in supporting AMD's Mantle offerings.
The only thing AMD needs now is to secure support from other engine developers such as Valve, Epic Games and Crytek and I think we can safely say that Mantle will be a perfect alternative for designers to make use of high-end PC graphics properties without relying on DirectX or OpenGL. Even more than that is that Mantle's OS-agnostic stance means that it's already viable for SteamOS support, which would effectively help Valve easily and conveniently start usurping OS market share away from Microsoft, as far as PC gaming goes.
We'll continue to keep you posted on info regarding Mantle. While the news may not seem that important, depending on how Mantle and SteamOS gather support will determine how the future of PC gaming unfolds. Exciting times.
Your Daily Blend of Entertainment News
Staff Writer at CinemaBlend.