StarCraft 2 Legacy Of The Void Had A Strong Launch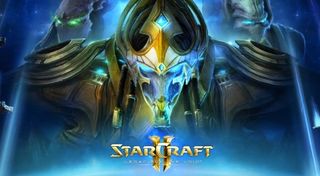 Blizzard Entertainment's StarCraft 2: Legacy of the Void wasn't quite plastered all over every website like some games, nor was it being promoted as heavily across new wave media like YouTube like Assassin's Creed or Black Ops 3. But that didn't stop Legeacy of the Void from selling big and having a very strong launch.
PC Gamer picked up the tweet from the official StarCraft Twitter account, which let everyone know that more than a million gamers "warped" into StarCraft 2: Legacy of the Void. You can check out the tweet below.
Legacy of the Void launched on November 10th against Bethesda Softwork's indomitable Fallout 4, which not only managed to ship 12 million units its first week out but managed to sell more than 1.2 million copies within a few hours on Steam. That's freaking impressive. The game broke a new record on Valve's digital distribution service with the most concurrent users on at a single time – a record I might add that was previously held by the highly anticipated PC release of Rockstar Games' Grand Theft Auto V.
Nevertheless, the release of the final story expansion for StarCraft 2 has been 15 years in the making and has resulted in Blizzard cashing in big on the final showdown between the Protoss, the Terran and the Zerg in an epic and explosive conclusion to the dark, epic, engaging, griping and sometimes sad story.
Gamers who have already completed the expansion have already noted how bittersweet it is, knowing that StarCraft 2's main story has finally completed itself. Unlike some other franchises out there, Blizzard wrapped things up in a really nice way with the game, and any fan of the series will likely want to get their hands on it to see how the story concludes. Heck, more than a million people – even in the face of the release of Fallout 4 – still couldn't resist getting their hands on the $40 expansion pack on day one. So expect sales to continue to climb over time.
The game contains enough missions to last gamers anywhere between six and eight hours of standard gameplay on the lower difficulty settings but lends itself well to longer sessions at the higher difficulties.
I can easily see Legacy of the Void steadily maintaining its sales pace given that word of mouth will likely stay positive for the final main story pack for StarCraft 2. Blizzard isn't entirely done with StarCraft 2, though. They already announced that there will be micro-missions released starring the popular Ghost, Nova. There will be a total of nine missions for Nova released throughout 2016 in packs of three.
While the main story arc involving many familiar faces and beloved characters has come to an end, there are still a lot of possibilities left open for the StarCraft universe that Blizzard will likely tap sometime in the future. It's a good thing they didn't jump the shark the way 343 did with Halo 5, so there are a lot of new story opportunities available that should satisfy fans, so long as Blizzard is willing to keep churning out quality content.
You can pick up a digital or physical copy of StarCraft 2: Legacy of the Void right now, exclusively for PC.
Your Daily Blend of Entertainment News
Staff Writer at CinemaBlend.