StarCraft 2 Nova Covert Ops Announced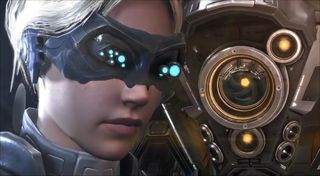 It's not quite StarCraft: Ghost but it looks like it's going to be close enough. StarCraft 2: Nova Covert Ops is a micro-expansion for StarCraft 2, featuring everyone's favorite special operations operative, Nova.
Blizzard didn't unveil a lot of details about the project but over on the StarCraft 2 page on Battle.net they did release the following teaser trailer.
The trailer is light on details and short on content, but we do know that players will be in command of Terran special operator, Nova. She's a psychic with an impressive cache of high-tech weaponry. In the game that was canceled, a third-person stealth-action title, players would have been able to assume the role of the dangerous and highly lethal "Ghost", a name given to this specific branch of Terran special-ops.
StarCraft's third-person action-stealth shooter is probably one of the most notable cancellations in gaming history. A lot of gamers were looking forward to exploring Nova's story and being able to play the game from a third-person perspective, which would have been a huge deviance from the traditional isometric, real-time strategy point of view usually associated with the StarCraft series.
Perhaps, in Blizzard's mind they aren't quite ready or willing to invest in a full-on TPS starring Nova, but introducing old and new fans alike of StarCraft to a micro-campaign starring the deadly female operative could help them build toward a larger, bigger budget outing for the character.
Over on the StarCraft page that hosts the teaser trailer, gamers have commented that the trailer gives off a strong Portal vibe. A lone techie trapped in a facility with a deadly robot? Well, yeah that's Portal's plot.
The thing is, we have no real idea what route the micro-campaign will go in, but we do know that it will feature several playable missions within the StarCraft 2 universe. There's no actual details on how big the missions will be or to what extent they will afford for replayability, but I really do get the feeling that this could be Blizzard testing the waters for something much larger, either involving the property or the character.
Then again, Blizzard has a very expansive universe that's ripe for the pickings when it comes to characters with complex backstories and worlds with detailed lore. Heck, they've managed to milk World of Warcraft for more than a decade with enough expansions and updates to allow everyone involved in the production to retire with a healthy sum of money.
For now, it looks like StarCraft 2 fans can look for the Nova Covert Ops to go live alongside Overwatch in the spring of 2016 for PC. According to the brief statement on the website, this will be the first mission pack, so based on that wording alone it appears as if Blizzard has plans to release more missions for Nova.
Staff Writer at CinemaBlend.
Your Daily Blend of Entertainment News
Thank you for signing up to CinemaBlend. You will receive a verification email shortly.
There was a problem. Please refresh the page and try again.