StarCraft 2 Legacy Of The Void Buyers Will Get Heroes Of The Storm Character Before Everyone Else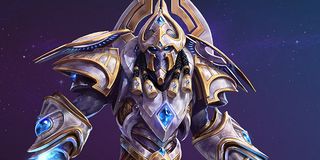 If you pre-purchase StarCraft 2: Legacy of the Void, you'll unlock a new character in Blizzard's other game Heroes of the Storm. On top of that, you'll get this character early.
The bonus character is, as expected, Artanis. Legacy of the Void pre-purchasers will get access to the Protoss warrior in Heroes on October 20. That's a full week before everyone else can play him.
Artanis is a front-line warrior who relies on his psionic powers to wreak havoc on the front line. He can also call in some heavy fire support from his flagship, the Spear of Adun, to mop up the competition. Here's his full list of abilities:
[D] Shield Overload - Cooldown: 20 seconds Trait If you take damage while below 50% Health, gain a 984 ( 186 + 42 per level) point Shield for 5 seconds. Your Basic Attacks lower the cooldown of Shield Overload by 4 seconds.
[Q] Blade Dash - 65 Mana Cooldown: 10 seconds Dash forward and deal 125 ( 30 + 5 per level) damage to enemies, then return and deal 375 ( 90 + 15 per level) damage.
[W] Twin Blades - 25 Mana Cooldown: 4 seconds Your next Basic Attack immediately strikes the enemy 2 times.
[E] Phase Prism - 70 Mana Cooldown: 14 seconds Fire a Phase Prism that deals 145 ( 50 + 5 per level) damage to Heroes and swaps your position with theirs.
[R] Purifier Beam - 80 Mana Cooldown: 80 seconds Target an enemy Hero with an orbital beam from the Spear of Adun, dealing 400 ( 96 + 16 per level) damage per second for 8 seconds. The beam will chase the target as they move. Unlimited range.
[R] Suppression Pulse - 40 Mana Cooldown: 50 seconds Fire a large area pulse from the Spear of Adun, dealing 250 ( 60 + 10 per level) damage and Blinding enemies for 4 seconds. Unlimited range.
Legacy of the Void's other pre-purchase bonus was "Whispers of Oblivion," a three-mission prologue starring the Dark Templar Zeratul. These missions, which bridge the gap between Heart of the Swarm and Void, are available to all players starting today regardless of whether you own StarCraft 2. Newbies can access the missions by downloading the free SC2 starter pack through the Battle.net launcher.
StarCraft 2 also received Update 3.0 today, bringing a number of changes to the game. The patch overhauls the user interface for the game, adds Heart of the Swarm's leveling system to Wings of Liberty and more. You can read the full list of changes in 3.0 at Battle.net.
Staff Writer at CinemaBlend.
Your Daily Blend of Entertainment News
Thank you for signing up to CinemaBlend. You will receive a verification email shortly.
There was a problem. Please refresh the page and try again.