Starbound Coming To PS4 And PS Vita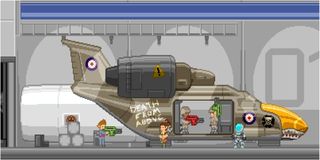 People can yelp and praise on and about the launch line-up of the Xbox One for having better exclusives, but Sony used GamesCom 2013 to lay the royal smackdown on Microsoft and the Xbox One by unveiling one exclusive after another, after another, after another. One of the console exclusives they've obtained is Chuckle Fish's highly anticipated Starbound, the emergent, open-world space exploration game.
While Microsoft may have acquired some exclusive content from high-end hitters like Electronic Arts and the NFL, Sony has gone over and beyond to acquire content from a wide swath of game companies, including Starbound.
I mean, what better first-quarter launch title could you ask for other than something like Starbound? While a lot of the graphics whores will not be entertained or enticed with the game, it kind of embodies everything gamers have been asking for out of the progressive, emergent survival space.
What's more is that Starbound takes the concept space travel to new heights, as players will interact, explore and terraform planets to suit their liking. The only other game that could have strengthened Sony's line-up of games for the PS Vita and PS4 is if they nabbed Minecraft as well... oh wait, they already did!
Anyway, Starbound is a side-scrolling, free-form kind of game where you can scavenge and craft your own weapons, scavenge and craft your own armor, customize the look of your character, build up installations and facilities, design your own home, build up a research facility, a sickbay, a hospital, army barracks, monster containment and more.
The game has almost limitless possibilities, even including completely miscellaneous gameplay mechanics, such as throwing your own concert using the game's music creation system. So basically, in between traveling from one planet to the next you can rock out with your friends playing Train's Drops of Jupiter on your way to... dun, dun, dun, Jupiter.
Starbound is available right now for pre-order as the team winds down the development phase and preps for launch. This is one of those games that will cause you to lose your life and get entrenched in fandom sort of like when Skyrim works when the bugs aren't causing you to throw the controller at the wall.
You can head to the official website to learn more about the game or simply wait for November 15th and grab a PS4 and then grab Starbound when it launches for the console.
Your Daily Blend of Entertainment News
Staff Writer at CinemaBlend.
Your Daily Blend of Entertainment News
Thank you for signing up to CinemaBlend. You will receive a verification email shortly.
There was a problem. Please refresh the page and try again.