Steam Co-Op Sale Celebrates Valentine's Day Weekend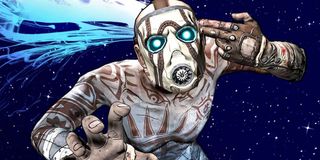 Steam wants to make it easier for you to game with your significant other this Valentine's Day. They've slashed prices on 31 games with cooperative multiplayer.
The AAA titles on offer during the Valentine's Co-Op Sale include the Saints Row and Borderlands series. Valve also cut the price on Portal 2 by 75%. It's hard for me to imagine that there's a PC, Mac, or Linux gamer out there that hasn't played Portal 2 yet but if you're one of those rare exceptions, you really should.
Steam's sale has more of a slant toward indies, though. Tower defense hybrids Dungeon Defenders, Orcs Must Die! 2 and Sanctum are all available at a discount. If you'd prefer survival games, Don't Starve Together and Project Zomboid could be yours for 25% and 35% off, respectively.
Should you be looking for something really weird, I'd suggest Viscera Cleanup Detail. VCD puts players in the role of a janitor at a space station after a horrific battle. Now that the hero has saved the day, it's you (and your partner's) job to clean up the mess with a mop, bucket and other tools. Buying the game also gives you access to Shadow Warrior and Santa's Rampage spin-offs for free as well.
Here is the full list of games on sale through Steam now:
Dungeon Defenders - 80% off
Saints Row 4 - 75% off
Saints Row 2 - 75% off
Serious Sam 2 - 80% off
Gang Beasts - 33% off
TowerFall Ascension - 25% off
BroForce - 25% off
Guns of Icarus Online - 75% off
Garry's Mod - 75% off
Dungeon Defenders 2 - 20% off
Serious Sam 3: BFE - 80% off
Lethal League - 50% off
Serious Sam HD: The First Encounter - 80% off
Saints Row: The Third - 75% off
Magicka - 75% off
Starwhal - 33% off
Chariot - 33% off
Don't Starve Together - 25% off
Sanctum - 85% off
Castle Crashers - 75% off
The Jackbox Party Pack - 25% off
Viscera Cleanup Detail - 20% off
Borderlands: Game of the Year Edition - 75% off
Orcs Must Die! 2 - 75% off
Portal 2 - 75% off
Terraria - 70% off
Project Zomboid - 35% off
Borderlands 2 - 75% off
Sanctum 2 - 80% off
Borderlands: The Pre-Sequel - 50% off
Gauntlet - 50% off
Steam has a few other deals going this weekend as well. Far Cry 4 is 33% off while NBA 2K15 is 50% off. Company of Heroes 2 and Total War: Rome 2 are free to play until 1 PM Pacific and 75% off until Monday at 10 am Pacific. All the other discounts will be available until Monday morning as well.
Staff Writer at CinemaBlend.
Your Daily Blend of Entertainment News
Thank you for signing up to CinemaBlend. You will receive a verification email shortly.
There was a problem. Please refresh the page and try again.