Super Smash Bros. Leak Confirms Ryu And Roy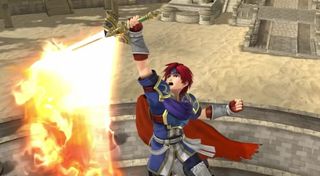 Two new characters are inbound for Super Smash Bros on the Wii U and Nintendo 3DS. Capcom's prime-time mascot for the Street Fighter series, Ryu, and Fire Emblem's Roy. The leak is quite substantial because it actually features images and gameplay footage of both characters.
There's a Reddit thread with the collected information so far, with links to TripleXZero and MemeScreen's YouTube channels containing both videos, which you can view below.
As you can see, both characters appear to be fully fleshed out and practically complete. I imagine these two were likely going to be announced during Nintendo's E3 press conference next week, but it looks like those pesky gamers beat them to the punch.
In addition to the videos above there are also some detailed renders available for both characters, as well as a few glimpses at their respective stages in the game. The Reddit post also notes that their sounds and some crowd chants in Super Smash Bros have also surfaced.
A couple of other details in the post also revealed that the Dreamland 64 map will be making a return to the game, which should prove to be fairly popular during the EVO series, and there are some new Mii fighter costumes inbound. What are some of these new costumes for the Mii fighters in Super Smash Bros? Well, there are Mii costumes for Zero, Isabelle, Megaman.exe, Heihachi from Tekken and both Akira and Jacky from Virtua Fighter. There's a few images on the Twitter feed of Random Talking Bush that you can check out below.
Nintendo has been working quite hard to keep the content flowing and the audience engaged with Super Smash Bros well after its release. The addition of Mewtwo, Lucas and these new fighters are bound to keep gamers coming back for more.
Even with this leak for Super Smash Bros it still doesn't reveal much about what they actually have planned for E3. I mean we're completely left in the dark about Star Fox and while the Nintendo NX is supposed to be a year off from its official announcement, knowing the Big 'N' they could technically drop anything.
Anyway, next week is going to be a rocket buster and you'll need to hang on to your butt because it's likely going to be a wild ride with all the announcements and big reveals.
Staff Writer at CinemaBlend.
Your Daily Blend of Entertainment News
Thank you for signing up to CinemaBlend. You will receive a verification email shortly.
There was a problem. Please refresh the page and try again.