Terraria, Flow, And More Hit PSN Tuesday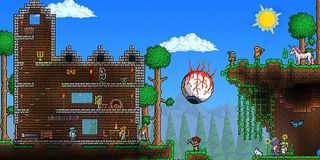 The holiday season is upon us and, out of nowhere, the PlayStation Vita is getting a rather large crop of titles for gamers on the go to enjoy heading into the New Year. The PS3 and PlayStation 4 are getting a little love this week too but, with games like Terraria, Eufloria HD and Mutant Mudds Deluxe popping up on the PSV, it's clear which of these consoles is Sony's "favorite child" this week.
Over on this week's listing for The Drop, Sony Social Media Specialist Ryan Clements has laid out all of the details concerning this week's latest batch of gaming goodness coming to Sony platforms. But while the majority of this week's games are headed to the PlayStation Vita, Clements only has eyes for Flow, an early PS3 motion-controlled game that's finally arriving on the PlayStation 4.
"One of the first games developed by thatgamecompany, Flow, emerges onto PS4 this week in all its surreal glory," Clements said. "This unique and beautiful experience made a mark on PlayStation gamers when it first launched on PS3 several years ago, and now enjoys a visual enhancement on PS4."
If controlling an ever-growing, ever-evolving brightly glowing critter in Flow doesn't sound like your idea of a good time, the PS4 offers up an alternative this week in the form of Pinball Arcade. One of my all-time PSN favorites, Pinball Arcade takes real world pinball tables like Theatre of Magic, Terminator 2 and Attack from Mars and recreates them for the virtual gaming scene. It's a wonderful collection of some of pinball's greatest offerings, at it arrives on the PS4 this week. No word yet on how many of the game's extensive library of tables will be available, nor if there will be a cross-buy option for those who already own Pinball Arcade on the PS3 or Vita.
Speaking of the PS3, "last gen" gamers have a few titles to get excited about this week, too. Aabs Animals, the obnoxiously cute pet simulator, arrives on the home console this week, while Toki Tori arrives on Sony's older home console and Mutant Mudds Deluxe hits the PS3 and the Vita at the same time.
And speaking of the Vita, Mutant Mudds is only the tip of the iceberg this week. It'll be joined by rhythm/running game Bit.Trip Presents...Runner 2, artistic strategy game, Eufloria HD, physics puzzle game, Furmins, "simple puzzler," Sparkle and, of course, the long-awaited portable release of the hugely addictive 2D build-it-yourself RPG adventure game, Terraria.
And as if that wasn't enough, even the PlayStation Portable is receiving a little attention this week with a rare late-life release that isn't a localized JRPG. Gamers on Sony's last gen portable can pick up Pro Evolution Soccer 2014 starting this week, bringing all of the action of the pitch to the palm of your hands.
Look for all of that, along with your regular weekly dose of demos, videos and DLC, to arrive on the PlayStation Network Tuesday afternoon, Dec. 16.
Your Daily Blend of Entertainment News
Staff Writer for CinemaBlend.