TimeSplitters Rewind HD Runs On CryEngine 3, Will Be Free On PC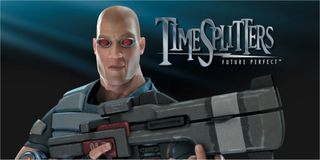 TimeSplitters is getting the HD treatment and will be arriving later this year, hopefully by the holiday season for PC. The new game isn't so much a game as it is a total conversion mod, very similar to Far Cry 3's Blood Dragon DLC, except the TC will be free and will be available on PC for free.
According to an article on PC Gamer, the same minds behind the petition revival for TimeSplitters has instead decided to re-focus their efforts on actually taking action and getting something done with the franchise, with Crytek's blessings, of course.
The mod is called Rewind and is basically just a focus on the multiplayer and challenge aspects of TimeSplitters. The team is hard at work at redesigning many of the original ideas from the first three games into CryEngine 3's SDK and standardizing it all for today's generation of playstyles. There will also be the option to switch between classic and modern play mechanics for those who would prefer a truly old-school experience.
This is good news considering that all previous efforts to make a new TimeSplitters has fallen under. And it's good that Crytek is being so upfront and nice about the whole thing, as we know that there are many times where big corporations exercise their right to bully the little guy just because they have billions to do so, much like the total conversion of the Lord of the Rings being made in Skyrim.
TimeSplitters Rewind will sport more than 300 characters from the series' illustrious lineup of wacky personalities and, per the agreement with Crytek, will be free of charge for anyone who wants to hop in and play. If the redo garners enough attention and support, there is the possibility of a single-player campaign being worked into the project.
Your Daily Blend of Entertainment News
Staff Writer at CinemaBlend.
Your Daily Blend of Entertainment News
Thank you for signing up to CinemaBlend. You will receive a verification email shortly.
There was a problem. Please refresh the page and try again.