Titanfall Beta Extended On Xbox One And PC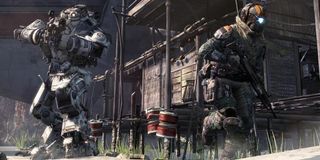 Respawn wants players to have more hands-on time with their multiplayer shooter Titanfall. They've decided to extend the Xbox One and PC beta test beyond its previously scheduled end time.
The beta was supposed to end on both platforms at 6pm PST on February 18th. However, players will now have an additional day to putz around:
Titanfall's beta allows gamers to try out three modes and two maps from the full game. The XP-based progression system is also available, allowing players to unlock new items and abilities. They can use these unlocks to construct customized loadouts for both their character and their titan.
The test began on XB1 and PC on Friday. Respawn planned to send out waves of invites throughout the weekend and then stop on Sunday night. However, they decided yesterday to open up the test to all Xbox One and PC gamers looking to play.
"We are really excited to get a good test on all of our systems before launch and encourage you to join in," said Microsoft's Larry "Major Nelson" Hryb at the time.
I'm really glad that Respawn has decided to make the test as large and long as they can. An open beta is a win for everyone. Players get to try out the game before launch and see whether it's worth their money. The developers get feedback for their game and lots of exposure. I'm sure that some players will decide Titanfall's not for them but the flipside is that many players could be converted into day-one buyers.
It's also nice that no one had to pre-order to get into the test. Game companies are so fixated on getting you to throw down money for their products as soon as possible. Pre-order to get the bonus DLC. Pre-purchase for a 10% discount. Buy the alpha version so you can play right now. I'm glad there are developers out there willing to let us try before we buy.
The only unfortunate part of the test is that Xbox 360 gamers couldn't participate. The 360 version of the game was farmed out to Bluepoint Games. Bluepoint made no announcement of a Xbox 360 beta. They need two additional weeks to polish their version of the game so I suppose they don't have the time to spare on hosting a test.
If you haven't checked out the beta yet, read our preview to find out what you're missing. There's no non-disclosure agreement in place so you can find plenty of YouTube videos and Twitch streams as well.
Staff Writer at CinemaBlend.
Your Daily Blend of Entertainment News
Thank you for signing up to CinemaBlend. You will receive a verification email shortly.
There was a problem. Please refresh the page and try again.