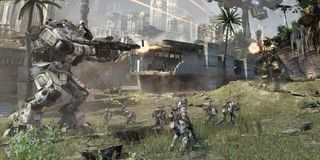 Last night Respawn opened sign-ups for the Titanfall closed beta on PC and Xbox One. Here's what to expect from the test if you're lucky enough to get in.
Titanfall's beta will allow you to try out three different game modes. The first two are very straightforward. In Attrition, each team tries to rack up a certain amount of kills. Hardpoint Domination is a capture-and-hold mode. The more "hardpoints" on the map that your team controls, the faster you'll earn points toward victory. You must eliminate any enemies near a hardpoint in order to capture it.
Last Titan Standing sounds like the sort of mode you play if you're short on time. There's no respawning and the round ends when one team is completely eliminated. Every player starts in a Titan but can't get a replacement if it's destroyed. The team that wins the best of five rounds will win the match.
The beta will feature two maps from the full game. Fracture is set in and around an abandoned mining town. There's plenty of countryside for the Titans to roam around in. Pilots can seek shelter in the settlement's various buildings. Angel City is a collection of urban districts separated by tall walls and checkpoints. Players, however, can head to the rooftops to quickly hop across the city. Angel City was previously featured in a gameplay trailer from October:
Invites for the Titanfall beta will be sent out starting on February 14th. Respawn will continue sending out keys in waves. The stop date for the beta hasn't been announced but rumors suggest it'll end on the 19th. Either way, invites will stop being sent out at February 17th at 11:59PM PST. If you get an invite before the 14th or after the 17th, it's probably fake.
If you don't get into the beta, you'll at least have plenty of gameplay videos to watch. Respawn says that this test won't have a nondisclosure agreement. You can stream footage through Twitch or YouTube without any negative consequences.
You can sign up for the Titanfall beta at the game's website. All you have to do is choose your platform and provide your birth date. It's an M-rated game so you need to be either 17 years old or smart enough to tell them you're 17 years old. Beta registration will end on February 14th at 4pm PST.
If you want to play the beta on PC, you'll need an Origin account. You'll also have to meet these minimum system requirements.
Titanfall will officially launch on the Xbox One and PC on March 11th. The Xbox 360 version, which isn't receiving a beta, will hit stores two weeks later.
Your Daily Blend of Entertainment News
Staff Writer at CinemaBlend.