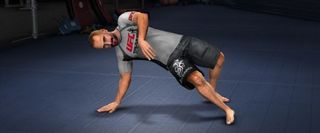 THQ is doing a little cross-promotion with UFC Personal Trainer's first downloadable content pack. The Urijah Faber Workout Pack will unlock a reward for the upcoming fighting game UFC Undisputed 3.
Personal Trainer is a fitness game that lets players "train like UFC fighters" using motion-sensing technology. It's available for the Xbox 360 Kinect, PlayStation Move, and Wii. However, only the Xbox 360 is receiving downloadable content for the game.
The Urijah Faber Workout Pack adds five workout routines and 15 "Hit the Mitts" drills. It also includes an Achievement called "Undisputed Trainee." This Achievement will give you a Create-a-Fighter boost for the Xbox 360 version of UFC Undisputed 3. This boost is said to save you 8-10 hours of gameplay. Presumably you'll be receiving bonuses to your character's stats.
At least two more downloadable content packs are planned for the 360. The Cain Velasquez Workout Pack and Jon Jones Workout Pack will be released on January 31st and February 21st, respectively. Both will add five new workouts and 15 "Hit the Mitts" drills. Each will cost 800 MS Points to download.
"UFC Personal Trainer gives fans the chance to train like their favorite UFC athletes and these workout packs take it to a whole new level," UFC President Dana White said. "Jon Jones, Cain Velasquez and Urijah Faber are three of the best conditioned fighters in the UFC. They'll challenge UFC fans to reach fitness goals like never before."
UFC Undisputed 3 will be arriving on February 14th in North America and on the 17th in Europe.
Your Daily Blend of Entertainment News
Staff Writer at CinemaBlend.