Upcoming Chinese MMO Is Not Made By Epic Games, Not Using UE4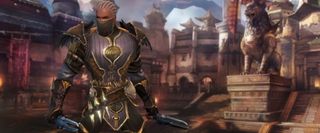 Yesterday there were reports that a new MMO was in the works under the Epic Games China label after info from LinkedIn profiles surfaced. However, that's not necessarily the case, the Epic Games China division is not wholly affiliated with the main Epic Games branch and is instead a loose subsidiary with Epic's "blessings". The company, however, does design games using the Unreal Engine and their Chinese name, Yingpei Games, translates to Epic Games.
The full rundown of the corporate lingo that can easily discombobulate the average brain can be found in a detailed report over at Joystiq. So in essence, the game still has ties to Epic Games, the Epic name and Epic's licensing technology, but it will not be running on the Unreal Engine 4 as it's already well into development and the two programmers with Unreal Engine and Nvidia graphics experience, Alex Chi and Alan Xu, who have been contracted to work at Epic Games China are actually working at Yingpei Games who, in turn, have been working on the upcoming, next-gen MMO, Find Dragon.
As the Chinese website for the game states, it's been in development for a while and will be heading into beta soon. The game is running on the latest version of the Unreal Engine 3 and isn't really as new as we first thought. The highlight of the game, however, is that it does take a lot of what makes World of Warcraft and EverQuest fun and combines it with the fast and dynamic combat of devCat's Vindictus.
Unfortunately, we'll still have to wait until E3 to find out exactly which game(s) and hardware will be using the Unreal Engine 4.
You can learn more about Yingpei Games at the Official Website as well as the upcoming Find Dragon at its Official Website.
Your Daily Blend of Entertainment News
Staff Writer at CinemaBlend.