The War Z Now Available On Steam...Again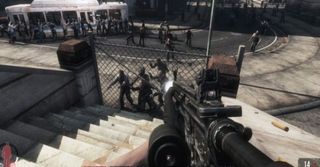 After the controversial fallout from the first time Hammerpoint Interactive's The War Z launched on Steam, things have settled and the dust has cleared. Hammerpoint wants to try again and they have announced that The War Z is now available on Steam, again.
For those who don't remember, The War Z originally released back in October to a lot of controversy, which resulted in gamers doing their bid and trying to get the game removed from Steam because the game wasn't up to par. The controversy kicked up enough of a storm to cause Hammerpoint to issue a public apology.
Well, things have finally turned around and it was noted in a news post on the Steam store that The War Z is now back up and available for purchase from Valve's digital distribution service. The game carries a $14.99 price tag and sports additional purchasing options for cash shop goods.
It should be worth noting that despite the changes to the page to better reflect the state of the game, The War Z still has a Metacritic score of 23 out of 100. I know a lot of gamers don't bother using Metacritic as a gauge for whether a game is good or not, but the poor player reception and continuous streams of clandestine measures taken to protect the product really should be taken into consideration before giving these guys any money.
On the bright side, DayZ's standalone is currently undergoing limited stress testing and something more playable should be made available soon.
Staff Writer at CinemaBlend.
Your Daily Blend of Entertainment News
Thank you for signing up to CinemaBlend. You will receive a verification email shortly.
There was a problem. Please refresh the page and try again.