Watch Dogs Can Run At Ultra Settings On A Mid-Ranged GPU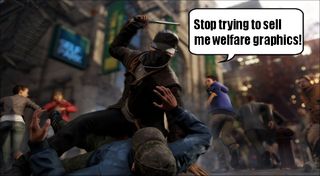 Uh oh, prepare your butt-cheeks because this news is bound to cause some piping hot flames to scorch the unprotected bums of rage-induced fanboys.
So what's so rage-worthy about this news? Well, Ubisoft has made it known in a tweet that you don't need a super-big, massively expensive master-rig to play Watch Dogs on the 'Ultra' graphics setting.
T4 Mag picked up the tweet from Ubisoft's creative director for Watch Dogs, Jonathan Morin, where he responded to a question about someone wanting to play the game on the ultra settings at 900p. Here was Morin's response...
This is great news for anyone who wanted to get their hands on a really high-quality version of the game, but didn't want to spend an arm and a leg on an Alienware PC. At this junction, if you have a really good mid-ranged GPU and a really good CPU, you can enjoy all the fruits of Ubisoft's labors in the way that it was meant to be played.
T4 Mag makes the observation that the GTX 670 is almost equivalent to the GTX 760, according to the benchmarks.
According to GPU Boss, that's almost correct. There's a slight edge in favor of the GTX 670 with higher frames, better frame stability and better max performance output.
Even still, if you could find a way to hit ultra on the GTX 760 for around $280, that's not too bad at all and it's a huge upgrade over the welfare settings on the PS4 and Xbox One.
Also, this puts into perspective where you stand compared to the standard recommended settings that Ubisoft announced with the system requirements for Watch Dogs, where a GTX 560ti was suggested as the recommended GPU for the game.
Of course, if you want ultra settings at full HD support with a resolution of 1920 x 1080p, you may need to go with something a bit beefier.
However, for the same resolution as the PlayStation 4, but at much higher graphics fidelity, you can settle with the GTX 670, or as T4 Mag suggests, the GTX 760.
It would seem like a GTX 670 might be a bit overkill if you just want the game to not look like something from the generation of the geriatric twins, but if you're the kind of graphics whore who can't get enough pixels per square inch, and you need all those uber-Nvidia exclusive TXAA effects in play to make your e-peen feel like it just got pumped up with the sort of ego-Viagra that will put you in the realm of Charlie Sheen's "Epic Winning" category, then by all means, stroke that e-peen like it's a lonely Saturday night and you've got $480 to blow on a high-class GTX GPU that will rock your desktop's body all night long.
Watch Dogs is due for release next week on PC, old-gen consoles and new-gen consoles. You can learn more by paying a visit to the official website.
Your Daily Blend of Entertainment News
Staff Writer at CinemaBlend.