Watch Dogs Pre-Order DLC Adds New Missions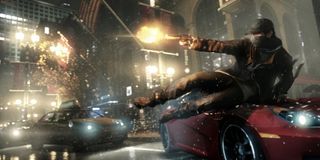 Amazon and GameStop are each offering exclusive DLC to Watch Dogs pre-order customers. This DLC will unlock new missions and items for the open-world action game.
GameStop's pre-order bonus is the Palace Pack. This will give players access to new investigations. Players will also receive more money than usual when hacking bank accounts at ATMs. Additionally, GameStop is throwing in a poster based on the box art of the game.
Should you choose to pre-order through Amazon, you'll get the Signature Shot Pack. This new mission revolves around the Black Viceroy's gang. A Biometric Assault Rifle has been smuggled into Chicago for the gang's leader and Aiden wants to intercept it. He'll have to break into their base, steal the weapon and escape alive. In addition to the rifle, Aiden will also get his hands on the Black Viceroy's Outfit.
Watch Dogs stars Aiden Pearce, a vigilante living in Chicago. The city's supercomputer controls all electronics in addition to monitoring its citizens. Aiden will hack into this system to punish the powerful and corrupt.
Ubisoft announced Watch Dogs at last year's E3 with a stunning announcementgameplay demo that arguably stole the show. I suspect we'll see more of the game at this year's convention next month as well.
Image 1 of 2
Your Daily Blend of Entertainment News
Staff Writer at CinemaBlend.