Watch Dogs Wii U Version Finally Gets Release Date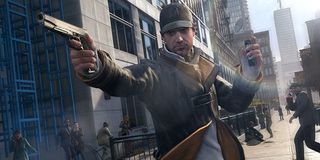 Wii U owners' long wait for Watch Dogs is almost over. Ubisoft announced today that the open-world game is coming to Nintendo's console in November.
Watch Dogs will debut on Wii U in North America on November 18th. The European launch will follow on the 21st.
The game was initially released on PS4, PS3, Xbox 360, Xbox One and PC in May. Ubisoft decided to push back the Wii U's launch so they could "focus the team's resources," according to CEO Yves Guillemot.
Watch Dogs producer Dominic Guay later explained that the delay allowed them to make the Wii U version tailored to that console.
"We have our studio in Bucharest working on it, and we wanted that team to have the time to explore the GamePad and be able to have fun with it and see how far they could push it," Guay said.
Based on today's announcement, it doesn't sound like there are too many Wii U-specific features. Watch Dogs on Wii U supports Off-TV Play, allowing players to experience the game through their GamePad's screen when their television is in use. When they're playing Watch Dogs on their TV, they can use their GamePad's screen as an interactive map. In other words, you're pretty much just getting standard Wii U features here.
The other versions of Watch Dogs have received multiple DLC packs to date. Ubisoft never confirmed whether this content would be coming to the Wii U. It would be nice if the add-ons were just included with the Wii U version to off-set the long delay. Again, though, there's been no indication that Ubisoft's considering such a thing.
Watch Dogs may turn out to be the final Mature-rated Wii U game released by Ubisoft. The company shelved plans for a sequel to Wii U exclusive ZombiU. Both new Assassin's Creed games, Rogue and Unity, are skipping the console. Guillemot suggested this summer that they're sticking to family-friendly releases on Wii U moving forward.
"What we see is that they are very interested in Just Dance, very interested by other kinds of games," said Guillemot in August. "So what we are trying to do is to focus more on the types of games they are interested in."
He suggested in a separate interview that the Wii U needs to sell more units to justify wider support for the device. If sales don't pick up, though, Wii U owners may never see Aiden "Sad Pants" Pearce or any other Ubisoft action heroes again.
If you haven't checked out Watch Dogs yet, be sure to read our review first.
This poll is no longer available.
Staff Writer at CinemaBlend.
Your Daily Blend of Entertainment News
Thank you for signing up to CinemaBlend. You will receive a verification email shortly.
There was a problem. Please refresh the page and try again.