Weekly Recap March 7th: Live Gaming TV, Watchmen, Ninja Blade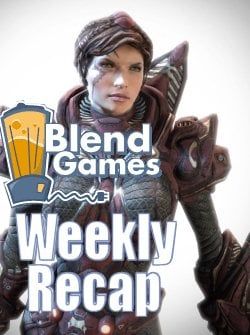 To say that this last week was explosive in news would be a big fat, blatant lie. However, there were a few headlines that surfaced, which some gamers might feel are news worthy, especially when it comes to the economy, a nearly solid release for inFamous, and a review for the EVE clone, Galaxy Online.
Sunday
Call of Duty Modern Warfare 2 Is Open For Suggestions. The headline says it all. Start the feedback gamers!
KillZone 2 Getting Outsold by Street Fighter IV. Not quite what the fanboys were expecting, but it's true, nonetheless.
Interview with the team behind Galaxy Online. So what makes this game tick and how does it differ from EVE Online? Click on to find out.
Monday
Dead Space writer signs on for Dead Space Extraction. It may be made for the Wii but that doesn't mean EA isn't put next-gen efforts into the game.
Legend of Chun-Li tanks at the box office. I wonder where the movie studio went wrong?
Toys 'R' Us is getting into the used-game business. I smell fail, but you can read the article to see if they have a strategy that spells success.
No Red Ring of Death for Red Xbox 360 Bundles. They fixed one problem by creating another: red Xbox 360s.
Ninja Blade Demo Impressions. Check out the hands-on impressions about the upcoming demo.
Tuesday
Microsoft officially abandons Xbox consoles. This is as true as it gets, but you'll have to read the article to get the full low-down.
Wii's Classic Controller Pro is not coming to America. Bad news for North American gamers.
Star Ocean IV is just a bad anime game. Some readers didn't agree. Click the link to find out why.
[[ br. ]] Halo 3 sports 3 billion matches played. People, you really need to get a life and possibly take a shower…and maybe get some sleep, too.
Capcom responds to the pathetic showing of Legend of Chun-Li movie. Guess what they had to say, I'm sure you won't be surprised.
Wednesday
Halo Wars Black Box and Skull Locations. You know you wanted to know where they were, well know you'll know.
Square-Enix makes it official, they're pimping Eidos. Yeah, that's tough news for Eidos. Now they'll get pimp-slapped anytime a game doesn't do well, too bad.
Resident Evil 5 Blood Drive and Best Buy Zombies. Kind of a lot to take in, no? Well, the article breaks it all down for you nice and easy.
EA will announce a new secret project next week. This means gamers need to keep a keen eye on the news circuit, or else they could miss the most important moment in the history of press announcements.
KillZone 2 controls could get changed. Some people liked them and some people didn't, so Guerrilla Games will change them.
Thursday
Live Gaming TV. What is it? How does it work and what does it offer? It's live gaming TV folks, and we'll be seeing a heck of a lot more of it in the future.
Killer Instinct 3 and Perfect Dark Zero 2 are still Xbox 360 exclusives. Well, that's what the rumor mill is spinning and spewing.
Chronicles of Riddick: Assault on Dark Athena is precursor for new Riddick movie. Say what?! That's right, there's a new Riddick movie in the works.
Review for Galaxy Online. Blend Games' own Andy Keener takes a crack at this MMORTS space-game. So what was the verdict?
Amazon wants in on the used game business. So how is it going to work? Well, click the link to find out.
Friday
Metal Gear Solid Touch pwns Nintendo DS and PSP games? Well, the headline reads like a statement but the content is a bit snide. Read it without being too serious, folks.
Unreal Tournament 3 free-to-play this weekend. It is exactly what it says it is. Click the link to find out more.
Game stocks take the plunge. The game industry is not as recession proof as some analyst thought.
Global Agenda interview with Executive Producer, Todd Harris. Find out what he had to say about this upcoming MMOFPS.
Matt Hazard is coming to XBLA/PSN this Summer. Headline says it all.
inFamous is confirmed for June. The prediction was made earlier last month, but now Sony is confirming it.
Saturday
Top 10 Most Embarrassing Video Game Cartoons of All Time. Honestly, what more needs to be said?
The Watchmen: Justice is Coming is currently available on iPhones. Play the game on your iPhone while watching the movie…I dare you.
Review for Eat Lead: Return of Matt Hazard. Pete Haas rounds out the week with a review of this reincarnated action hero.
That wraps up this week's recap. Not bad for the first week of March. You can definitely look forward to some big news revelations next week, especially with EA's secret project, Microsoft's two new titles and the impending launch of Resident Evil 5.
Staff Writer at CinemaBlend.