What We Can Expect From Square Enix At This Year's E3, According To Square Enix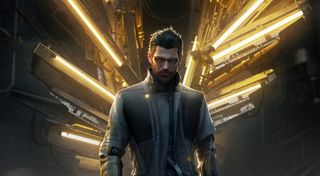 The road to E3 is paved with a lot of promotional content, blog posts and product line-ups. Square Enix has made their intentions known for this year's trade show with a list of games they'll have on display at the event.
Gamespot picked up the news from over on the official Square Enix blog, where they listed off some of the games that attendees will be able to get their hands on, including the highly anticipated Deus Ex: Mankind Divided... Eidos Montreal's sequel to the critically acclaimed and commercial success that was Deus Ex: Human Revolution.
We've actually seen quite a bit of Deus Ex: Mankind Divided, so I don't think Square or Eidos really need to focus too much on dropping information bombs for the game leading up to its release later this year. It's just a matter of reminding gamers on when it's coming.
They will also have playable demos for the third episode of Hitman. They don't reveal what this episode is about in the blog, but based on the previously released roadmap, that should place the next scenario in Marrakesh. A preview of the map from Hitman's second episode revealed that the third episode involves a consulate with a riot taking place outside. Very interesting setting.
Final Fantasy XV will also be present at E3 in some capacity, but they don't reveal it just yet. Instead they do reveal that RPG fans will get their fill from Star Ocean 5: Integrity and Faithlessness, which is due to launch at the end of June.
There's also going to be a showcase for the Just Cause 3 DLC called the Land Mech Assault. As the name implies, players will be able to commandeer mechs and cause all sorts of crazy havoc with them.
There's also going to be a demo for Tokyo RPG Factory's first game, I Am Setsuna. The game is a throwback to classic JRPGs while mixing in 16-bit themes with eighth gen technology. The demo will help pave a way to hype the game up for a release later this year on PS4 and PC. It borrows heavily from Square's classics like Chrono Trigger, so fans should definitely appreciate that.
The one game that intrigues me the most is The Turing Test. Set on Jupiter's icy moon known as Europa, players will take on the role of Ava Turing in what sounds like a outer space take on Portal mixed with a psychological thriller. They don't talk much about the game but it will be showcased as part of Square Enix's Collective at E3. I get the feeling it could end up stealing the show depending on what's showcased.
And finally, the indie game Black The Fall> will be on display, giving gamers an opportunity to check out the dystopian world they're attempting to escape from while assuming the role of the character Black. It's a puzzle and pitfall kind of game that seems like it might appeal to Oddworld fans.
Square will have some live shows from the E3 showfloor, but they haven't revealed if they'll have another conference... yet. There's still plenty of more to find out regarding Square's plans at E3, so stay tuned as they make more announcements leading up to June.
Staff Writer at CinemaBlend.
Your Daily Blend of Entertainment News
Thank you for signing up to CinemaBlend. You will receive a verification email shortly.
There was a problem. Please refresh the page and try again.