Why AMD Is Mocking The NVIDIA GTX 970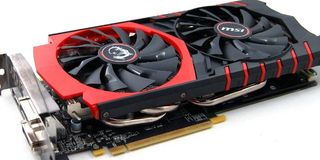 AMD has been making subtle jabs at rival video card manufacturer NVIDIA this week. The butt of their jokes is NVIDIA's recently released GTX 970 card.
The GTX 970 has 4GB of memory but that number doesn't sum up the situation. Due to the card's architecture, only about 3.5GB of that memory can be utilized at maximum bandwidth. The remaining 0.5 GB of memory is accessed several times slower. This means that if you'll see worse performance when you're using all four gigs of memory. It causes the 970 to fall short of the 980, NVIDIA's other and more expensive 4GB card.
"Basically, in a scene where GTX970 allocates 3500, the 980 allocates 4000mb," explains a Reddit user's overview of the situation. "It is possible for a 970 to allocate 4000mb VRAM but only in severely extreme scenarios(Like 5k res with MSAA). For instance, Shadow of Mordor on ultra textures at 1080p seems to hover around 3600mb VRAM, Skyrim doesn't want to go beyond 3570MB, and hitting 4k only makes it 3580MB. A 980 allocates 4000MB in all these scenarios. Far Cry 4 and Watch Dogs are also around 3600mb on the GTX970 where in the same scene the GTX980 will allocate 4000mb."
Even with this problem, the 970's a powerful card. However, the fact that it performs below what was marketed gives AMD an easy way to attack their rival. They can boil dry technical details to a simple line of attack: "NVIDIA lied to you. They said your video card is 4GB but it isn't. If you want a real video card at a decent price, get our product instead" Here's a Facebook post by AMD from earlier in the day:
Note the time limit on that contest: 970 minutes. Very subtle, guys.
Robert Hallock, head of global technical marketing at AMD, also tweeted an image tweaking NVIDIA over the problem:
Unfortunately for NVIDIA, there's no easy way for them to shut up AMD. They suggested earlier this week that they could fix the GTX 970's VRAM with a driver update. However, to PC gamers' chagrin, they announced yesterday that no such fix is in the works:
If they're not planning to fix this issue, I do hope that they have some other plan to appease new owners of the 970. Failing that, we may see a price cut on the card so it's noticeably cheaper than AMD's R9 290.
Staff Writer at CinemaBlend.
Your Daily Blend of Entertainment News
Thank you for signing up to CinemaBlend. You will receive a verification email shortly.
There was a problem. Please refresh the page and try again.