Wii U Is Horrible And Slow, Says Metro Dev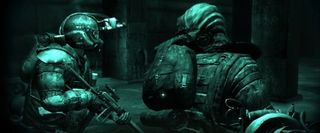 The Wii U has managed to attract several third-party developers to its banner. However, Metro 2033 and Metro: Last Light studio 4A Games hasn't been won over by Nintendo's new console. They say that the Wii U simply doesn't measure up to competing platforms.
"We had an early look at it, we thought we could probably do [a Wii U version of Metro: Last Light], but in terms of the impact we would make on the overall quality of the game – potentially to its detriment – we just figured it wasn't worth pursuing at this time," 4A's Huw Beynon told NowGamer.
4A chief technical officer Oles Shishkovtsov, had a more blunt appraisal of Nintendo's console: "The Wii U has a horrible, slow CPU."
While Beynon said that they might reconsider a Wii U version of Last Light in the future, he didn't sound optimistic. He pointed out that the team isn't large enough to handle another platform. Their team wasn't large enough to create a PS3 version of Metro 2033, so it's a "significant addition" for them to develop Last Light for the PS3 as well.
Last Light was recently delayed by publisher THQ to ensure that 4A had enough time to polish it. It's one of several games pushed back by the struggling publisher. The hope is that the extra development time for these titles will be enough to garner great reviews and boost sales. THQ's back is to the wall and they really need these games to do well in order to stay afloat. Given the company's sorry financial state, it seems unlikely that they'd bankroll additional ports for games like Last Light, especially on platforms that are still new and unproven.
The Wii U launched this weekend in North America. It will arrive in European stores on November 30th. Metro: Last Light is slated for a 2013 launch.
Staff Writer at CinemaBlend.
Your Daily Blend of Entertainment News
Thank you for signing up to CinemaBlend. You will receive a verification email shortly.
There was a problem. Please refresh the page and try again.