WildStar Is Coming To Steam And Has Big Plans For The Future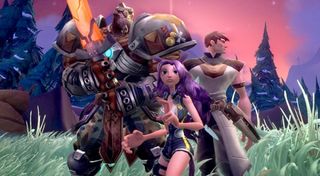 Carbine Studios and NCSoft have announced that they have big plans for the future of their free-to-play MMO, WildStar Online. The game will be making the leap to Valve's popular digital distribution platform, Steam. In addition to arriving on Steam, there is a huge update inbound called Destination Arcterra.
PC Gamer does a very thorough preview of the new ice-themed world that sports new dungeons to raid, new monsters to fight and new challenges to overcome for gamers who like to tackle missions solo like Rambo or in a group like a typical MMO. They also cover the game's leap onto Steam in the preview, but unfortunately there's no solid release date set on when exactly WildStar will appear. Gamers will have to keep an eye out on the MMO's website to know for sure when it will come to the digital distribution portal.
Neverthless, the new update, Destination Arcterra, will introduce new dynamic events including a new boss gauntlet where groups of players will face off against increasingly difficult bosses that start off simple enough but scale up to require 20-person teams to take them down. If the event is successfully completed a key will drop that gains the party access to a special dungeon for 24 hours that offers players some new opportunities to gain some cool gear.
Speaking of bosses... the 20-person boss raids will extend to actual dungeons as well. The raid called "Redmoon Terror" will see players having to strategically work together to take down the larger-than-life foes in the game while looting treasure along the way.
The game isn't just getting a new area and some bosses and quests, NCSoft and Carbine plan on opening up the game with more lore-oriented content, including story missions and cinematics to help flesh out the mythos of WildStar. The story missions will be playable either solo or with a party of up to five players.
According to the preview, the game will also receive a graphical upgrade to bring the game's visuals up to today's standards. If you were reluctant to dive into WildStar because the game just wasn't visually appealing enough, Carbine is planning on addressing that issue.
The MMO has really come a long ways following its debut in 2014. The beta testing phase showed a lot of promise, but things didn't quite take off when they launched with a monthly subscription model that gamers didn't really take a liking to. Before having to make concessions and shutdown, they switched over to a free-to-play model. This lured in enough gamers to give WildStar Online a chance and it eventually helped save the game.
Even though the game is free-to-play, that doesn't guarantee that it's in for a long-haul of financial success. NCSoft is smart to play up the addition of WildStar to Steam's library because there are millions of more gamers who could become exposed to it and decide to hop in and start playing.
You can learn more about the game and the update by paying a visit to the official website.
Staff Writer at CinemaBlend.