You Can Pick Up A Nintendo 2DS Cheaper Than Ever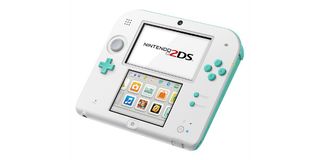 If you've been holding off on getting a Nintendo 2DS, your holding off has paid off because at this point you can get the system with a free game for the cheapest it has ever been. Starting now, you can pick up a Nintendo 2DS for only $99.99, down from the original $129.99 price.
In addition to getting a price cut, the package still comes with a free copy of Mario Kart 7. So you get the system and one of the best games available for that system, for only $99.99.
Gematsu picked up the news from an official Nintendo announcement over on Business Wire.
Scott Moffitt, Nintendo of America's executive VP of sales and marketing commented about the news, stating...
The Nintendo 2DS came out back in October of 2013. At the time a lot of people questioned what Nintendo was doing with a device like that and why they would be focusing on a non-3D version of the 3DS. However, the 2DS managed to gain some solid footing in the hardware sales department and continued to help push Nintendo into profits coming off the abysmal slack that Nintendo encountered during the time of which the Wii U was flailing and dying on the market.
Of course, the Big 'N' picked up a lot of its expense baggage after Mario Kart 8 dropped and they found a decent role for the Wii U to fulfill on the market. Coupled with the strong sales of the Nintendo 3DS, the regular outing of Pokemon titles, the introduction of the Amiibo and the solid and consistent sales of the Nintendo 2DS, Nintendo seemed to have found a strong place to financially reside in throughout the eighth generation of home console gaming.
What's more is that they could see a nice boost up in the sales for their properties throughout the holiday quarter now that they have a nice $30 price cut on the Nintendo 2DS.
What would really help them out during this time, though, is if they decided to drop the price of the Wii U down by a significant margin. A price cut on the Wii U for the holiday sales rush could net them a few million units sold if it was anywhere between $50 and $100. It would also be a nice way to lead into their 2016 announcement for the highly anticipated and much talked about Nintendo NX (whatever it may be).
In the interim, gamers who have been putting off getting any handheld Nintendo gear no longer have an excuse or a reason to keep forfeiting any purchase of the Nintendo 2DS now that it's down to $99 and comes with Mario Kart 7.
You can learn more about the Nintendo 2DS by heading on over to the official Nintendo website.
Staff Writer at CinemaBlend.