You Can Win An Entire Island Courtesy Of Just Cause 3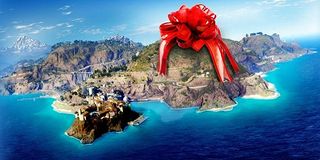 Pre-order bonuses are getting more and more extravagant these days. Take Just Cause 3 for example. According to Square Enix, one lucky person who pre-orders the day-one edition of the game will win an island. Yes, a freaking island.
Video games sure have come a long way over the years. Back in my day, if you didn't rush to the store on launch, you chanced missing out on the hot new releases. Then pre-orders came along, guaranteeing your copy of the game. Then they started adding in these newfangled pre-order bonuses, like in-game content and little trinkets that make you feel all warm and fuzzy inside. Nowadays, you kids get islands and whatnot when you reserve a game early.
Or at least that's the deal Square Enix is pitching with Just Cause 3. Until now, Fallout 4's Pip-Boy was perhaps the coolest special goodie you could get with your new game. Just Cause 3 is kicking it up several thousand notches, though, by handing over the keys to an entire island.
Set to launch on Dec. 1, Just Cause 3 will give players the opportunity to wreak absolute chaos on a virtual island. From shooting enemy soldiers to driving cars off of cliffs, blowing up entire military compounds and parachuting all over the place, the game promises to be an explosive sandbox full of fun.
If you'd like to see that fun bleed over into the real world, then you'll want to pre-order a copy of the game with a quickness. According to the event guidelines, that's the first step toward having a chunk of land to call your own. After Just Cause 3 launches, you'll have 90 days to rack up as many Chaos Points as humanly possible to further your chances of winning the grand prize. If your name rests atop the leaderboard when the contest draws to a close, you get your very own island paradise. The official rules state that anyone who buys a day-one edition of the game is eligible to enter, but Square Enix encourages pre-ordering to make sure you get your hands on the proper version of the game.
If, however, you happen to win the contest and don't want your own island (like a crazy person), you have the right to claim a $50,000 reward instead. Actually, that seems like a pretty good deal, since the agreement also states a person opting to take the island will be responsible for all taxes and fees attached to the transaction. That alone will likely cost you a good $50K just to get through but, hey, island!
Also worth noting: Your island is not guaranteed to be "inhabitable, developed or reachable by any means other than a boat."
Staff Writer for CinemaBlend.
Your Daily Blend of Entertainment News
Thank you for signing up to CinemaBlend. You will receive a verification email shortly.
There was a problem. Please refresh the page and try again.