inFamous First Light Release Date Leaked By PlayStation Store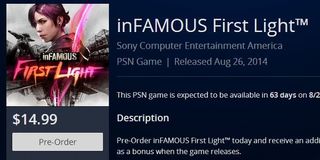 PS4 exclusive inFamous: Second Son's standalone expansion pack First Light could be out this summer. The PlayStation Store is now listing an August release date for the single-player adventure.
The PlayStation Store entry here in North America says that inFamous: First Light will debut on August 26th. The 26th is a Tuesday, the day that the PlayStation Store gets updates in this territory. The fact that this is Sony's own digital store, rather than a third-party retailer, gives the listed date extra credibility. There's been no official announcement of the release date by Sony yet but August 26th seems legit.
inFamous: First Light was announced at E3 2014 earlier this month. The first trailer confirmed an August release:
The adventure doesn't star Second Son hero Delsin Rowe. Instead, Abigail "Fetch" Walker is the main playable character. She's a Neon-powered ex-junkie seen in Second Son's main campaign.
"Locked up in a prison for super powered humans, Fetch is forced to relive tragedies from her past," says the PlayStation Store summary. "Unravel her dark secret in Seattle while battling to escape snowy Curdon Cay and seek vengeance for those who wronged her."
You don't need to own inFamous: Second Son to download First Light. However, Second Son players will unlock bonus content for the expansion. They'll probably have a better handle on the story, too.
First Light is one of the first PS4 games available for digital pre-order. If you pre-purchase the game and leave your PS4 on standby, the console will automatically download and install the files prior to launch. It's unclear when this preloading will begin, though. Pre-order customers will get a bonus costume for Fetch. Be warned, though, that refunds aren't available for digital pre-orders.
inFamous Second Son debuted on the PS4 in March. If you're thinking of buying the game before First Light drops, be sure to check out our review round-up first to see what critics said about it.
This poll is no longer available.
Staff Writer at CinemaBlend.
Your Daily Blend of Entertainment News
Thank you for signing up to CinemaBlend. You will receive a verification email shortly.
There was a problem. Please refresh the page and try again.