FBI: Most Wanted Boss And Dylan McDermott Break Down Remy Scott's Big Reveal, Plus What Comes Next
By Laura Hurley published
Dylan McDermott made his FBI: Most Wanted Debut as Remy Scott, and the actor and showrunner David Hudgins broke the episode down.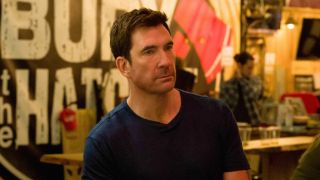 (Image credit: CBS)
Spoilers ahead for Episode 17 of FBI: Most Wanted Season 3, called "Covenant."
FBI: Most Wanted sent the Task Force on the trail of some murders that initially seemed simply tied to a forbidden love between a teen and an older man, but the plot thickened and proved that the real villain was hiding in plain sight. "Covenant" also introduced former Law & Order: Organized Crime star Dylan McDermott as Remy Scott to replace Julian McMahon's Jess LaCroix. Remy was clearly charming and capable, but it wasn't until the end of the episode that the show shed some light on what drives him. McDermott and Most Wanted boss David Hudgins opened up about Remy's big reveal as well as what will come next.
The episode ended with Remy and the rest of the team (with the exception of Barnes after making her important decision) out for a night of axe-throwing and drinks to unwind, and Remy opened up about what drives him. Long ago, his brother was murdered after local law enforcement fell short on their investigation, and that motivated Remy to become an agent and do everything in his power to prevent the same kinds of tragedies for others. In a Q&A with CinemaBlend and other outlets about the new era of FBI: Most Wanted with Remy replacing Jess, Dylan McDermott shared his approach to the character's backstory:
A character coming in with a tragic backstory isn't unprecedented when it comes to TV procedurals, but FBI: Most Wanted took a refreshing approach with Remy. He came out and told his new teammates what had happened instead of turning it into a closely-guarded secret, and McDermott confirmed that the backstory has played a part in how he portrayed his character in the three episodes that he'd already filmed by the time that he and showrunner David Hudgins spoke with press. The actor continued, sharing what's different about his new character:
The tragedy of losing his brother drives Remy, but he's not so traumatized that he can't function without his personal feelings affecting the case or preventing him from bonding with the other agents on the task force. McDermott's comments echo what the showrunner said about how Remy compares to Jess LaCroix as a leader, and all signs point toward a "quest" that should be intriguing to watch over the remaining episodes of Season 3.
David Hudgins weighed in with his own perspective on building the character of Remy and why Most Wanted decided to drop the reveal about the brother's death in Dylan McDermott's very first episode:
FBI: Most Wanted delves into dark secrets on a weekly basis when it comes to the cases, so it truly could be fresh to have an open book in Remy. Plenty of people wouldn't have wanted to tell such a deeply personal story to a group of nearly strangers in the middle of a fun night out, so I think the agents have every reason to be confident about him as their new leader.
Plus, the show won't waste any time in digging deeper into his family history, as Dylan McDermott also revealed that he recently filmed a scene with Remy's mother that demonstrated some depth to his character while remaining an open book:
Despite the big reveal about Remy and his brother's death, there are still more questions than answers about the character after his first episode. Fans will have to keep tuning in to see exactly what FBI: Most Wanted has in store for the newcomer and how he fits into the team, but David Hudgins previewed what's ahead. The showrunner shared:
At the time of writing, FBI: Most Wanted has not yet been renewed for Season 4, but it sounds like the show is setting the stage for a storyline for Remy that could span well beyond the Season 3 finale. There's also no reason to worry that Most Wanted – or any of the FBI shows, all of which are available streaming with a Paramount+ subscription – won't be renewed for the 2022-2023 TV season. FBI: Most Wanted as well as FBI and FBI: International are all going strong as the CBS leg of the nine-show Dick Wolf TV universe.
Tune in to CBS on Tuesdays at 10 p.m. ET for new episodes of FBI: Most Wanted (opens in new tab) featuring Dylan McDermott as Supervisory Special Agent Remy Scott. There's no saying whether or not Roxy Sternberg will be back before the end of Season 3, but fans can always hope that Barnes will meet Remy ahead of hiatus.
Resident of One Chicago, Bachelor Nation, and Cleveland. Has opinions about crossovers, Star Wars, and superheroes. Will not time travel.
Your Daily Blend of Entertainment News
Thank you for signing up to CinemaBlend. You will receive a verification email shortly.
There was a problem. Please refresh the page and try again.