How Shark Week's Air Jaws Team Got Extremely Lucky In Battling The Killer Orcas For The Top Guns Special
By Laura Hurley published
Air Jaws EP Jeff Kurr explained how Shark Week got very lucky with the orca battle this year!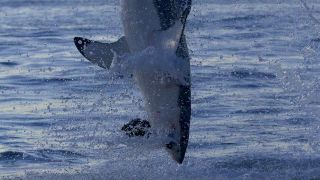 (Image credit: Discovery)
Air Jaws is back on Shark Week with a new Discovery special that will try to capture footage of breaching great white sharks in a different way than viewers are used to after all these years. Called Air Jaws: Top Guns, Shark Week familiar faces Dickie Chivell and Andy Casagrande are on the search this time around. According to executive producer and creator Jeff Kurr, however, the Air Jaws team got extremely lucky when it came to "battling" the killer orcas this year.
A recurring theme in Shark Week in recent years has been the problem of orcas hunting great white sharks, resulting in a massive drop in great white numbers. According to Kurr, the orca issue resulted in the team having to create the Air Jaws storyline this year around the species also commonly known as "killer whales." He explained:
In the early years of Air Jaws (with the first Discovery special in what would become a popular series airing in 2001), the sharks were much easier to find, including the well-known great white known as Colossus. Jeff Kurr pointed out that as much as great white sharks are almost at the top of the food chain, they don't stand a chance against orcas the way that they do against other animals. (R.I.P. seals.)
The executive producer previewed that Dickie Chivell and Andy Casagrande do get an impressive breach in Top Guns, but they were very lucky "considering what the white sharks are up against." The orcas obviously cause huge problems for the sharks, but what about the filming crew trying to capture the breaches in South Africa? Jeff Kurr revealed:
The Air Jaws team has been "battling with the orcas," according to the EP, but the timing worked in their favor for this year's special. If they had been just a little bit later in coming to Mossel Bay, they might have had a severe shortage of sharks to film, and Chivell and Casagrande wouldn't have gotten the breaching shot that they did. The Top Guns special could have been very different from what viewers get to see on July 25. Kurr continued:
Great whites are facing many problems, and Shark Week is able to spread awareness to issues facing sharks like pollution and overfishing. Spreading awareness about orcas destroying white shark populations isn't something that can save them, however, so – as Jeff Kurr said – "hopefully" the sharks are able to survive.
Air Jaws has been one of the key parts of Shark Week for more than twenty years now in spreading awareness about great whites, and helping to change their reputation after the Jaws film franchise. You can find Air Jaws: Top Guns on Discovery on Monday, July 25 at 8 p.m. ET, so tune in for more great white action.
Of course, the species can be found across Discovery's week of shark-filled programming. In fact, Jeff Kurr's Great White Open Ocean aired as part of the very first night of Shark Week 2022 to tell the story of his friend's too-close-for-comfort encounter with a very large great white. Great White Serial Killer: Fatal Christmas airs right after Top Guns, and found a new way to solve a tragic mystery.
All things considered, Shark Week pulled out all the stops this year, including Noah Schnapp of Stranger Things appearing in the Stranger Sharks special, the Jackass team returning for their second (and fortunately less bloody) special, and the Impractical Jokers crew coming to Shark Week as well. For some viewing options following the end of Shark Week, check out our 2022 TV premiere schedule.
Resident of One Chicago, Bachelor Nation, and Cleveland. Has opinions about crossovers, Star Wars, and superheroes. Will not time travel.
Your Daily Blend of Entertainment News
Thank you for signing up to CinemaBlend. You will receive a verification email shortly.
There was a problem. Please refresh the page and try again.