As A Former Hotel Employee, I Have Some Questions About John Wick's Continental
You won't find these answers on TripAdvisor.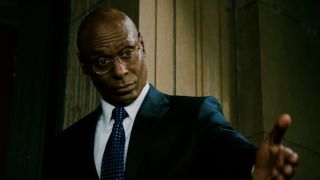 (Image credit: Lionsgate)
One of the coolest components of the John Wick franchise's mythos has to be The Continental. A chain of uber-elite hotels that cater to the assassin's underworld headed by The High Table, they're stylish settings for some of the best action movies we've seen in some time. However, as a former hotel employee, and a fan of a good hotel, I have some questions about just how this outfit runs.
Because I was once the night auditor for a major hotel chain, there are so many nuts and bolts that I want to learn about. Also, in tribute to the late, great Lance Reddick and his unflappable character Charon, it felt like time for the front desk staff to get some love. So feel free to check into my list of questions that dig into the inner workings of The Continental's mysterious handlings of some everyday concerns.
How Does The Continental Price Out Amenities In A Gold Coin Economy?
As far as checking into The Continental is concerned, there still seems to be a standard reservation procedure. In terms of payment, a simple, ornate gold coin is all it takes to secure a room at John Wick's lodging of choice. However, what the hell does that mean for all the other fees and amenities you can get in a hotel?
More specifically, are incidentals covered by your gold coin entrance fee? With anything from room service to damage fees coming out of that initial charge hotels love to pull your credit card info for, I doubt the major damage we've seen throughout Keanu Reeves' bloody quest for freedom would be covered by that single token, unless there's an exchange rate that I'm overlooking, in which case I'd be happy to become enlightened.
Should Anyone Even Bother Ordering Room Service?
The rules of the John Wick universe stipulate that no one can be killed on the grounds of The Continental, and it's one of the most sacrosanct policies. Hell, it's practically the plot of the last two movies, as breaking that code is what led Keanu Reeves' anti-hero to find himself excommunicado at the end of John Wick: Chapter 2. But what are the safeguards on preventing intentional, or even accidental deaths through room service?
Are people able to trust their steak and eggs will arrive unscathed from order to delivery? Not to mention, is Winston (Ian McShane) or any other manager of Continental hotel so confident that their staff won't take a simple bribe and off someone with a simple food allergy? I'd like to know what safeguards are in place before ordering a fruit salad with my lunch.
Is There A Rack Rate For Traveling Assassins Without Reservations?
Here's a fun, non-lethal question I drew upon my actual days of front desk service. While we've seen many assassins check into The Continental with reservations, just as we saw John do in his first cinematic adventure, does the chain have a policy for those without advanced bookings? In other words: does The Continental have a rack rate?
Here's the short version of what a rack rate is: it's the standard, non-discounted price for a room that can be offered for walk-ins directly at the front desk. These can usually be negotiated to a cheaper rate, as hotels love to sell out their room blocks, thus ensuring profit and sometimes a bonus dispensed to employees.
While Winston and Charon certainly don't look like they're hurting for funds, a rack rate can still be used to put heads in beds on any given night. Which, in turn, circles back to that pesky problem with the worth of a gold coin at the front desk.
Are There Conference Rooms And Event Spaces Available To Rent Out?
We've seen nightclub and bar areas throughout the glimpses of the various Continental locations in the John Wick films, with Chapter 4 introducing us to the gorgeous branch in Osaka, Japan. As this establishment is meant to cater to those who interact with, serve or even run The High Table, you have to wonder if there are other spaces that can be rented out to conduct business or even throw a party?
The best advantage to a secretive chain of hotels is you can allow those inclined to do business with the same sort of discretion that's employed throughout a standard night's stay. So does that mean the High Table can throw a conference in a Continental board room, provided they book with enough time in advance?
Also, if a pair of assassins are getting married, can they hold the ceremony and reception at their favorite branch of the franchise? Some of the other questions I've asked would come in handy when trying to answer this concern, especially with (say it with me, folks) the value of a gold coin!
In A Hotel Full Of Rowdy, Competitive Assassins, Is There A "Quiet Floor?"
You might find it funny to ask this next query, but any hotel worth their salt knows the areas that ensure as restful of a stay as possible. Though there are rules strictly prohibiting murder on The Continental grounds, you can't tell me that this group of rowdy competitive assassins don't get into non-lethal shenanigans on hotel grounds. As such, if one were to book a room at The Continental, is there a "quiet floor?"
Where I used to work, our fifth floor was where you wanted to stay if you wanted to avoid the noise of the hotel. This was especially key during wedding weekends, when drunk guests and loud children would be roaming the halls, making tons of noise in the process. I'd just really like to know if the assassin-friendly hotel chain I choose to stay at allows me to sleep soundly, without worrying some jackass is going to start doing endurance challenges with a flashbang in the hallway.
Can The Public Dine In The Continental's In-House Restaurant?
Even secret assassin hotels need to make money, gold coins or not. Tourism can get competitive, and sometimes it's good to have a lounge or restaurant of good standing to entice the public to dine. Call it a financial insurance plan in case you need to resurrect your recently demolished five star digs after the events of John Wick: Chapter 4. In any case, do you think the public could ever dine in The Continental's restaurant, minus reservation and/or gold coins?
Again, this world of secrets does have some overlap with the outside world. Not to mention, the actual location of John Wick's New York Continental once had a sushi restaurant on the first floor. If you're offering prime sushi in any major city, word is going to get out. Also, if you actually open your doors to the outside, restaurant ratings could find your establishment granted with various culinary awards, which is a symbol of greatness on either side of the divide.
How In The World Does The Front Desk Handle The Night Audit Paperwork?
The world of John Wick is an absolute stickler for paperwork. Nowhere have we seen this better highlighted than in the various scenes of the switchboards around the world, processing bounty updates and excommunicado announcements that sometimes come with them. So how does a well-funded, ultra-secretive outfit find time to do the paperwork for night audit; especially during a day like the one show in the ending to John Wick: Chapter 3 - Parabellum?
Keeping records, processing payments and rolling over the booking system into the next day on the calendar is a lot of careful, precise work. You wouldn't trust just anyone to take out John Wick, so why would you skip on the dedication to making sure the books are in line?
Maybe that's some of the stuff that Charon would get up to in his moments in-between handling unsanctioned hits on the grounds or making sure that John's dog is welcomed safely and soundly through the hotel's doors. Still, with a nightclub and bar that's almost always inviting a sneaky death or two, it has to be hell to try and actually do the job that helps run this hotel with efficiency and decorum.
Seeing the many hoteliers that have kept this institution running for as long as it has, I'd still trust that The Continental is in tip top shape at any given moment. Even with someone like the Marquis Vincent de Gramont (Bill Skarsgard) threatening to liquidate your operation at any given moment, the expeditious evacuation procedure and notice ensures that the guests are safe, unless they're the target. I just have a lot of questions from working in that world, and it'd be nice to get some answers because if I ever have to work in hospitality again, I'd surely be aiming for a spot in The Continental chain of lodgings.
Some of the answers might actually be scattered throughout the John Wick movies, three of which are currently available to stream with a Peacock subscription. Coincidentally, that platform might offer more answers when it premieres The Continental prequel series this fall. And, of course, John Wick: Chapter 4 is playing in theaters at the moment, so that's another afternoon's worth of entertainment, should you choose to indulge.
Your Daily Blend of Entertainment News
Senior Movies Contributor
CinemaBlend's James Bond (expert). Also versed in Large Scale Aggressors, time travel, and Guillermo del Toro. He fights for The User.