Chris Pine Is As Frustrated About Star Trek As The Fans Are: 'Feels Like It's Cursed'
Is Star Trek a cursed franchise?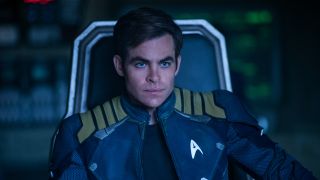 (Image credit: Paramount Pictures)
Star Trek 4 has been stuck in developmental hell ever since it was first announced a fourth installment was happening seven years ago. It's been up in the air if Trekkies and movie fans in general will finally get to see the story of the Starfleet Command continue. Star Trek's headlining star Chris Pine speaks about his frustration leveling with Trekkies feeling like the sci-fi franchise is "cursed."
The last time we saw the Starfleet crew beam up to the big screen was Star Trek Beyond six years ago and wasn't a box office hit to Marvel standards. Chris Pine has played Captain Kirk in three Star Trek movies, yet he's been completely out of the loop on what's happening with the fourth movie; he and his co-stars originally had no idea a new movie was even coming. With still no news yet on any further developments, Pine was questioned during his interview with Esquire whether or not a new Star Trek movie at this point was meant to be.
It was a devastating shock to a lot of fans when it was revealed Anton Yelchin, who played Lieutenant Pavel Chekov in the Star Trek franchise, passed away at the age of 27 after being crushed by his 2016 Jeep Grand Cherokee. His Star Trek family and Hollywood made sure to express their condolences and share touching tributes to the late actor. If you ask anyone in the Star Trek family if they could picture another movie without Yelchin, the answer is that they couldn't. Producer J.J. Abrams said he couldn't imagine recasting Yelchin for a fourth movie. His Star Trek co-stars felt the same way as Montgomery Scott actor Simon Pegg said it would be hard for him to move forward without him as well as Uhura actress Zoe Zaldana had the same "bittersweet" feelings about it.
Chris Pine may play the captain of the USS Enterprise in the Star Trek universe, but in the real world, there are bigger forces in charge of Star Trek 4's progress. There seemed to always be an obstacle in the way that halted the upcoming sci-fi flick. Scripts were in the works by Quentin Tarantino and Noah Hawley that never came to fruition. Then in September, Paramount revealed Star Trek 4 was temporarily removed from their release schedule. Just when we thought some progress was being made when WandaVision director Matt Shakman signed on as director, he exited the project to go back to Marvel and helm the Fantastic Four reboot. The workings of the fourth Star Trek movie really must be so complex that it's taking them six years to get this project running. The Wonder Woman star explains how he feels about the slow pacing of the fourth installment.
We have a number of big franchises that are taking over movie release schedules like the Marvel Cinematic Universe, Star Wars, and The Wizarding World of Harry Potter. While the last Star Trek movie received critical praise, $343.5 million at the box office, and even an Academy Award nomination for Best Makeup and Hairstyling, it still hasn't achieved the box office numbers of MCU standards. Fortunately, Chris Pine isn't bothered that his sci-fi action film franchise stands apart from Marvel.
It's absolutely a frustrating ordeal for Chris Pine and the rest of the cast and crew that Star Trek 4 is still in development limbo. All we can do is hope for an update from the beloved franchise's creators that will tell us if and when filming will start so that the "curse" of the film's development will be broken. While you wait, you can watch all three Star Trek movies on your Paramount+ subscription.
Your Daily Blend of Entertainment News
Just your average South Floridian cinephile who believes the pen is mightier than the sword.