Colin Farrell And Hugh Grant Get Candid About How They're Way Less Famous Than They Used To Be
Colin Farrell and Hugh Grant have thoughts about being less famous.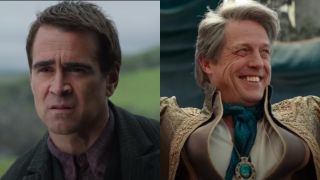 (Image credit: Searchlight Pictures/Paramount Pictures)
Colin Farrell and Hugh Grant both had leading-man status at the height of their acting careers. Grant was known for starring in successful romantic comedies like Notting Hill, while Farrell had his fair share of starring roles in blockbusters and independent films like Intermission and In Bruges. In recent years, The Gentlemen co-stars reflect on how they're both way less famous than they used to be.
Acting careers do tend to transition over time. One minute, you're in high demand from studios to star in almost everything to the next minute when the demands are more low-key. According to Variety's Actors on Actors, Colin Farrell spoke to Hugh Grant about how his days of fame are now over, but he's not exactly complaining about it.
This Irish actor was fortunate enough to find success in a highly competitive career and evolve into Hollywood material. His career skyrocketed early on in the early 2000s when he landed prominent roles in Phone Booth, S.W.A.T., and The Recruit which were an accomplishment critically and financially. But sadly, he suffered a miss when Oliver Stone's historical epic Alexander was a box office bomb and received harsh reviews from critics and historians. But despite that setback, success still followed him with another historic epic New World and one of his best roles In Bruges where he won his first Golden Globe.
You may not be seeing Colin Farrell's name in every newly released movie that's been coming out, but he did star in one of the top movies of 2022 going back to his Irish roots in The Banshees of Inisherin. This garnered him a Best Actor nomination. And you also can't forget about the unrecognizable, physical transformation he went through in The Batman playing The Penguin. While Farrell is still considered a bankable star, it doesn't mean he's living the A-list celeb life that people may expect from him.
Farrell also told Grant that the roles he chooses going forward will not have anything to do with what will make him more famous. He's all about using acting as an entertainment medium first and foremost. The About a Boy actor agreed with him and keyed in that he's in the same position in fame not playing a huge role in his own life too.
Known for playing the object of desire in rom-coms like Notting Hill, Love Actually, and Four Weddings and a Funeral, Hugh Grant has hilariously said his reason for quitting rom-coms is that being "too old and ugly" stopped him from being offered those kinds of roles. But, it's okay because he's been in a series of delightfully zany roles since then like The Man From U.N.C.L.E., Paddington 2, and a little cameo in Glass Onion. Plus, you'll get to see him in his villainous role of Forge Fitzwilliam in the 2023 movie release of Dungeons and Dragons: Honor Among Thieves.
These talented actors clearly have their work cut out for them. Colin Farrell and Hugh Grant may not be experiencing Hollywood fame like other A-list actors of today, but it doesn't take away the entertaining quality they still have on an audience with their careers still going nowhere but up.
Your Daily Blend of Entertainment News
Just your average South Floridian cinephile who believes the pen is mightier than the sword.