8 Delightfully Zany Hugh Grant Movie Roles You May Have Missed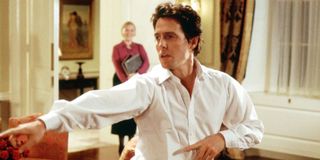 One might believe it is safe to assume that if you have seen one Hugh Grant performance, you have seen them all. This is not, by any means, a dig on the Golden Globe-winning Four Weddings and a Funeral star, and one of the finest to come from the United Kingdom, at that. It is merely an observation that most of his better known characters share similar characteristics - particularly that of a cynical, yet charming, British fellow with a lot to learn about love.
However, for now, forget everything you know about Hugh Grant from Notting Hill, Bridget Jones's Diary, Two Weeks Notice, or any of his other romantic comedies. Instead, we would like talk about the films he did before he hit the A-list that you might not have heard of, or even ones released later in his career which you did not realize he was in.
Those are the kinds of characters we most look forward to seeing the 59-year-old actor take on. Let's give them the attention they deserve by celebrating the following eight films that you may have you surprised to learn star Hugh Grant, some of which you might have even seen already.
Lord James D'Ampton - The Lair Of The White Worm (1988)
Hugh Grant still had a few years before becoming a household name in the States when he starred as the charming hero of English director Ken Russell's often comical adaptation of the 1911 Bram Stoker novel, The Lair of the White Worm. The then 28-year-old Grant plays the descendent of a Scottish folklore hero famous for slaying the titular snake-like monster centuries ago who aspires to follow in his family's footsteps after a series of disappearances and odd behaviors has locals convinced that the very same creature is to blame.
David Perrette - Small Time Crooks (2000)
From writer and director Woody Allen, Small Time Crooks stars Hugh Grant as David Perrette, a man enlisted to teach lowly con man Ray (Allen) and his wife, Frenchy (Tracey Ullman), the ways of the upper class after the pizza parlor they open as a front for a bank job proves less successful than the business itself. However, Ray suspects that that this handsome art dealer is not to be trusted, mainly for the charming effect he seems to have on Frenchy, in this kooky, lighthearted comedy caper.
Martin Tweed - American Dreamz (2006)
Few had considered how politics and reality TV might intersect before the release of American Dreamz, in which Hugh Grant plays the host of the titular singing competition program, possibly, as a biting exaggeration on then American Idol judge Simon Cowell. Despite the show's success, Martin Tweed wishes to take things in a new direction by accepting an Arab contestant at the same time the President of the United States (Dennis Quaid) comes on as a guest judge to prove he is in touch with the American people in this thoughtful, yet silly, satirical gem which also stars a young Mandy Moore as a wannabe performer.
The Pirate Captain - The Pirates! Band Of Misfits (2012)
Hugh Grant adopted some extra swagger with his signature voice to play the bumbling hero of this Academy Award-nominated stop-motion adventure from the creators of Chicken Run and Wallace & Gromit. The pirate captain, simply referred to as "The Pirate Captain" in The Pirates! Band of Misfits, makes the life of a swashbuckler a living nightmare for his crew as he attempts to outwit his fierce competition and earn the prestigious title of 1837's "Pirate of the Year."
Various - Cloud Atlas (2012)
Just like Tom Hanks, Halle Berry, and everyone else in cast, it is easier to spot Hugh Grant as some of the various characters he plays (especially as murderous CEO Lloyd Hooks) than it is with others (such as the cannibalistic Kona Chief or as Seer Rhee, a restaurant owner from a futuristic Korea) in Cloud Atlas. The actor plays a total of six characters, each from increasingly bizarre periods of time, in the Wachowskis' ambitious spectacle based on the mindbending novel by David Mitchell.
Alexander Waverly - The Man From U.N.C.L.E. (2015)
If it were not for his unmistakable appearance, you might not have realized that Hugh Grant was in The Man From U.N.C.L.E. based on how expertly he disguises his aforementioned signature voice behind an exaggerated tone in perfect sync with his role. In retrospect, barely anyone uses their natural voices in this Cold War-era espionage thriller from Guy Ritchie, based on the 1960s series of the same name, starring the British Henry Cavill as an American CIA operative and the American Armie Hammer as a man assigned to report to British Naval Intelligence Commander Alexander Wavely (Grant), who eventually becomes the head of the titular organization.
Phoenix Buchanan - Paddington 2 (2017)
If you are a fan of Hugh Grant's famous dance as the Prime Minister in Love Actually, that is nothing compared to witnessing him in a sequined, pink-striped prison uniform performing a lavish number with inmates in matching outfits in Paddington 2. He plays Phoenix Buchanan, a washed-up actor turned thief who causes mischief for an adorable talking bear (Ben Whishaw) and his adoptive human family, in this hit that Grant "genuinely" believes is the finest film of his career.
Fletcher - The Gentlemen (2020)
While there is not really any character who could be rightfully identified as the "good guy" in The Gentlemen, Guy Ritchie's long-awaited return to the crime genre, Hugh Grant's slimy journalist Fletcher is easily one of the worst. The main story of the film, the actor's second time under the direction of Ritchie, is mostly told (unreliably) through a script that Fletcher presents to Ray (Charlie Hunnam), depicting a conflict between Ray's boss, American marijuana kingpin Michael Peterson (Matthew McConaughey), and his business rivals in London.
What do you think? Have we covered all of Hugh Grant's most underrated and unrecognizable big screen roles, or are there others we should have had the sense and sensibility to mention? Let us know in the comments and be sure to check back for additional information and updates on the surprisingly versatile Brit, as well as even more performances from your favorite celebrities that might have flown under your radar, here on CinemaBlend.
Your Daily Blend of Entertainment News
Jason has been writing since he was able to pick up a washable marker, with which he wrote his debut illustrated children's story, later transitioning to a short-lived comic book series and (very) amateur filmmaking before finally settling on pursuing a career in writing about movies in lieu of making them. Look for his name in just about any article related to Batman.