Disney's Haunted Mansion Reboot Looks Like The Studio's Return To Gateway Horror, And It's About Time
Kids need horror movies too!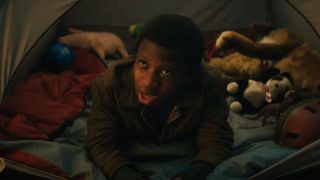 (Image credit: Disney)
Foolish mortals don't have to wait any longer to get a glimpse at Disney's Haunted Mansion reboot. The teaser trailer to the 2023 new movie release is now out in the open, with plenty of callbacks and some pretty amazing visuals that promise a frightfully good time. It's that particular ingredient that's wowed me after seeing director Justin Simien's movie at work in this sneak peek. Come to think of it, Disney looks like it's once again returned to gateway horror, and it's about time that it did.
Before I throw the doors open and welcome you all into why I think this is happening, and why it's a good thing, I'd first like to make sure you've seen Haunted Mansion's big teaser. With that in mind, please watch the footage shared below so you can get a feel for what we're about to discuss:
That does not feel like a typical Disney attraction-based franchise starter, and that's a good thing. Let's discuss the positive news, starting with defining what makes Disney's Haunted Mansion an entry into the gateway horror canon.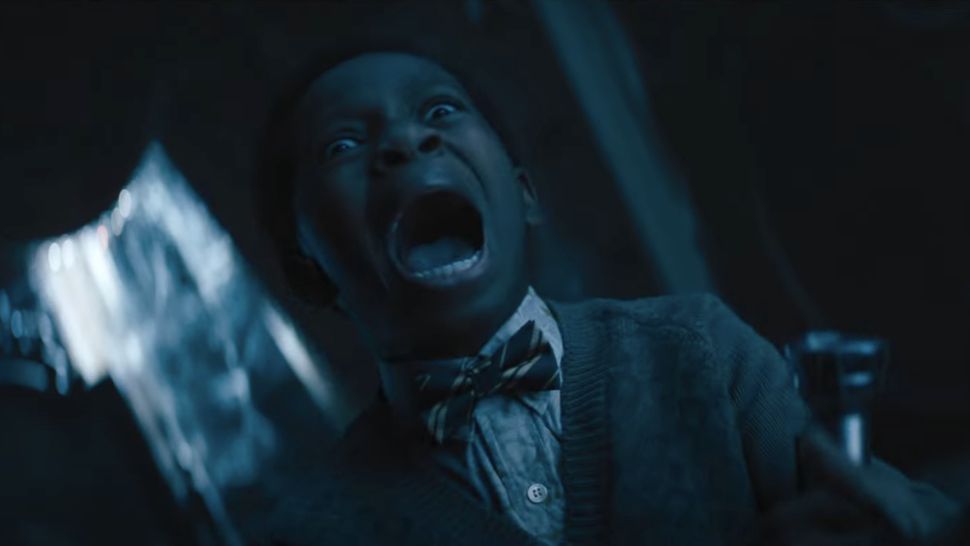 What Makes Disney's Haunted Mansion Gateway Horror?
Here's a shorthand recipe for the genre of gateway horror movies. Basically, all you need is a cast that contains and is focused around young child protagonists, perilous situations with a supernatural element, and a tone that still has room for jokes, but is, for the most part, grounded in serious threat.
Most importantly, a gateway horror movie is something that kids can still watch, be it with parental supervision or at a sleepover with their friends. Good examples of this sort of movie are The Monster Squad and, more recently, The Black Phone; both movies in which young people can identify with those characters personally, thus enjoying the journey more.
Disney is no stranger to this sort of movie, especially when 2003's The Haunted Mansion was a gateway horror movie itself. In fact, Justin Simien's new reboot helps further differentiate itself from the underrated Eddie Murphy variant in that while there's still some family-friendly humor to lighten things up, it looks more chilling and threatening than the previous movie.
Gateway Horror Has Been An Underserved Genre As Of Late
While we're not seeing a lot of gateway horror pictures hitting the market at the moment, it's a niche that was once well served by major studios. The '80s acted as the prime era for such projects, again riding a wave that allowed The Monster Squad to hit a theater near you around the same time Friday the 13th and A Nightmare on Elm Street was playing for the adults. The trend tapered off throughout the '90s and left us some projects stoking the fires from time to time, but never seeing its popularity catching on fire like it once had.
One studio that's been tending to the fire since the presumed beginning is, surprisingly, Disney. As the early '80s saw the studio in a period of experimentation, the Mouse House unintentionally became a standard bearer for gateway horror. Movies like The Watcher in the Woods and Something Wicked This Way Comes started things off, with everything from The Black Cauldron (which almost killed Disney animation) and Return to Oz pushing things along. Even the much-beloved Hocus Pocus counts as a gateway horror gem that Disney can count among its stable.
Much like Tron, another product of the experimental early '80s, Disney's forays in this category were appreciated over time rather than when they were released. Today, the world is way more open to gateway horror these days thanks to the popularity of Stranger Things and revivals of properties like R.L. Stine's Goosebumps.
Disney's Brand Recognition Could Really Help Revitalize This Subgenre
Disney is a leading brand in entertainment, and it seems that the top brass have rolled the dice on another gateway horror title. Seeing this happen not too long after Hocus Pocus 2 gave fans the sequel they'd been waiting for after almost three decades is no accident. Though in all fairness, the second spell from the Sanderson Sisters wasn't as much of a horror movie as the original.
Putting that argument aside, Disney is recognizing its horror genre brands as potential crowd pleasers again. It also looks like the studio has put quite a bit of faith in Justin Simien's Haunted Mansion vision, as it looks scarier than most of the live-action movies its produced as of late.
Should Haunted Mansion land as a blockbuster smash this summer, Disney will probably want a sequel, as well as more gateway horror films just like it. If you can get Disney on board for something that's not in line with its typical Marvel/Star Wars IP vision board, the world tends to take notice.
Children Might Want To Check Out Those Disney Horror Gems On Disney+
As of this moment, only a handful of the gateway horror movies that Disney has made are available to those who hold a Disney+ subscription. Sadly, the most landmark entries, The Watcher in the Woods and Something Wicked This Way Comes, are not available to stream in that pretty vast library. The studio may want to change that in the near future, as Haunted Mansion's potential success could create young horror hounds who'll eat those movies up in an instant.
Return to Oz, The Black Cauldron and The Haunted Mansion are all available, as are both Hocus Pocus movies. But if Disney really wants to cash in on the potential mania that's about to be stirred up, it's time to dust these long-neglected films off of the shelf and release them to streaming. Or, even better, they could be remastered and packaged on Blu-ray for the first time, seeing as people are still very much into physical media.
If Stranger Things Can Bring Families Together In Horror, Disney Should Be Getting In On That
It's strange that for a production company that was once on the forefront of gateway horror, Disney hasn't put a little more effort into keeping the subgenre alive. Netflix may have had a lucky break when introducing the world to Stranger Things, but if anyone felt like an appropriate fit to kicking off a renewed interest in boundary-pushing family horror, you'd think it'd be Disney.
Now that Stranger Things is about to end and people will more than likely want to seek out more projects of this nature, it's the right time for Disney to jump back in. That just might be another reason that Haunted Mansion got its greenlight, as the July timeframe has been the traditional release window of Hawkins' harrowing haunts for a couple years now. It's a savvy move that could pay off big time and lead to a comparatively out of the box
While this is a time for celebration, there's a warning that needs to come with Haunted Mansion's theatrical release. Not even Disney gets it totally right on this front, as The Watcher in the Woods' troubled history is a grim specter of what happens when a studio doesn't trust its audience.
So far, things are looking good for the cinematic resurrection of 999 happy haunts, and there's room for plenty more. Should this new trip to the mansion stick the landing, there's no telling what could be unleashed; and for once, that's a good thing! July 28th will see this Haunted Mansion tale spun in front of audiences of all ages, only in theaters.
Your Daily Blend of Entertainment News
Senior Movies Contributor
CinemaBlend's James Bond (expert). Also versed in Large Scale Aggressors, time travel, and Guillermo del Toro. He fights for The User.