Goldeneye 007's Re-Release Is Cause For Celebration, But There Are Still 4 Missed Opportunities That Needs To Be Fulfilled
James Bond is back... but this should just be the beginning.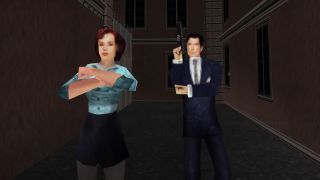 (Image credit: Rare Ltd. / Danjaq LLC and MGM)
Whether you're a fan of fine video games or an admirer of the James Bond movies, the re-release of Goldeneye 007 is a cause for celebration. Thanks to returning developer Rare ,an old gaming tradition is back in the spotlight for the modern world, courtesy of ports available through XBox Game Pass and Nintendo Switch Online + Expansion Pack.
And yet, there are four more missed opportunities waiting to be fulfilled, marking this joyous occasion a a good start. 00-gamers, it's time to talk about where things should go from here as we wait for IO Interactive's Project 007 game to usher in the next epoch of James Bond video games.
Rare's New Goldeneye 007 Port Isn't Available For Standalone Purchase
Right now, there are three ways you can play Goldeneye 007, and two of them involve subscription models. Folks who are subscribed to XBox Game Pass or the Nintendo Switch Online + Expansion Pack services now have access to the game, so long as their dues to those services continue to be paid up.
Outside of that, the only other way to grab the new port is to buy the digital edition of game collection Rare Replay, which grants you the honors without needing to maintain some sort of subscription. But two-thirds of those options are still tied to a subscription, as you can see in the ad for the Goldeneye 007 port trailer available through Nintendo:
Other than what's laid out above, your best bet is buying a Nintendo 64 and grabbing this iconic cartridge. Admittedly, that's not the most cost effective option for Goldeneye 007 fans, which only poses this question: why is this scenario so convoluted that no one can just buy the game outright?
The answer probably involves the traditional obstacle of James Bond rights issues. It wouldn't be that surprising considering Rare (now owned by Microsoft) developed the original Goldeneye 007, which was published through Nintendo. But if releasing this game onto subscription platforms is possible, surely there's only a couple additional steps that can be taken to allow players to own their favorite game again.
Goldeneye 007's Cancelled Xbox 360 Remake Should Be Officially Released
In the decades between Rare's 1997 release of Goldeneye 007 and the new port through Xbox and Nintendo Switch's subscription platforms, there was a promising project cancelled along the way. The infamous Goldeneye remake for XBox Live Arcade, which remade the project for the Xbox 360 console, is still sitting in the dark depths of the internet, waiting for an official release.
It's true that we still have Goldeneye 007: Reloaded, Activision's full blown remake starring Daniel Craig, available for purchase on the secondary market. That's not the same thing as a visually spruced-up version of Rare's Nintendo 64 classic, a dream that the world has come so close to seeing officially released, and yet still remains so far from enjoying. Although there is Goldeneye: Source, which is a fan-made project that scratches that same itch to a certain extent.
Online Multiplayer For All, With Skins Of All Previous James Bonds, Are Still The Dream
Another quirk about the new Goldeneye 007 port depends on which platform you're using to partake. Running through XBox Game Pass/Rare Replay, you get to experience the game in 4K, but can't play online multiplayer. However, if you're a Nintendo Switch Online + Expansion Pack user, you get to play the game through online multiplayer, but don't have the graphical upgrade.
So if you want to play against a good friend who's never experienced the joys of Goldeneye 007, you're going to have to jump through some old-fashioned hoops. In an era of cross-platform gaming, one would have thought this detail would have been ironed out when bringing the game to market. Which also leads to a feature cut from the original Nintendo 64 game that still has players longing for its inclusion.
During the development of Goldeneye 007, Rare included playable skins of Sean Connery, Roger Moore and Timothy Dalton's James Bond variants in the multiplayer roster. Sadly, because of rights issues mentioned in the gaming documentary GoldenEra, those skins were deleted, leaving gamer culture with one of the greatest unfulfilled "what ifs" to ponder over. A full restoration of those skins, as well as the ability for all Goldeneye players to face off regardless of platform, is something that feels like an easy improvement to add into the mix.
The EA And Activision Eras Of James Bond Gaming Are Overdue For Remasters
The original Goldeneye 007 is unquestionably the most iconic video game to have ever come out of the James Bond franchise. With that being said, there are still plenty of other games from the generations that came after that are well worth remastering and putting back on the market.
As the rights to produce 007 games would be held by Electronic Arts and Activision in the next two phases, adaptations of Pierce Brosnan and Daniel Craig films like Tomorrow Never Dies and Quantum of Solace came to pass. Not to mention, both actors had their own "unmade Bond films" through gaming adventures like Everything or Nothing and Blood Stone; both of which are part of the vast library of Bond games unavailable for digital purchase.
If only to preserve history and allow fans to play through those "lost adventures" of Brosnan and Craig, a good move would be to at least remaster and re-release those specific games for new generations to play. That same rationale goes for the less well regarded entries, like Goldeneye: Rogue Agent, and even 007 Legends. The latter would be especially welcome if it allowed for us to the Skyfall mission without having to track down the Wii-U version of the game.
At the moment, there's much to celebrate, as Goldeneye 007 is available to Xbox Game Pass and Nintendo Switch Online + Expansion Pack subscribers. Also, those gamers who own Rare Replay digitally on an XBox console will be able to get in on the fun. Finally, for those who want to enjoy the movie that inspired the game, Goldeneye is streaming on Paramount+ at the time of this writing, and will be available to those with an HBO Max subscription starting in February.
Your Daily Blend of Entertainment News
Senior Movies Contributor
CinemaBlend's James Bond (expert). Also versed in Large Scale Aggressors, time travel, and Guillermo del Toro. He fights for The User.