Peak Cringe Or Super Cute? Fans (And Dunkin') Don't Hold Back Their Thoughts After JLo And Ben Affleck Debut Matching Tattoos
Ben Affleck and Jennifer Lopez have tattooed themselves with their love, and fans have thoughts.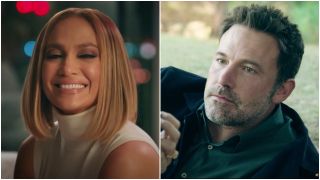 (Image credit: Nuyorican Productions/20th Century Studios)
When two people fall in love, they sometimes do crazy things. Ben Affleck and Jennifer Lopez have been here before, except for the actually getting married thing, so maybe people weren't expecting permanent declarations of love. However, Ben and JLo have gone full "matching tattoos."
The two stars now each have a brand new tattoo to symbolize their commitment to each other. It's a romantic gesture to show the permanence of their bond. However, there is always the possibility that the future won't go quite how the lovers currently envision, and a lot of fans are less than sure this was a good idea.
Not Everybody Is On Board With Ben And JLo's New Tattoos
A picture of JLo's tattoo is making the rounds which shows that it looks something like an infinity symbol, but with an arrow through it, like you might see in a traditional heart tattoo. Not everybody on Twitter is particularly impressed with the design.
There is something of a commonly held belief that when two people get tattoos for each other, that actually has the opposite impact. Of course, tattoos don't actually have a magical impact on a relationship, but that isn't stopping people from predicting the collapse of this one, with one fan saying….
That's a common refrain being heard on social media. We've certainly heard of people, including some celebrities, getting tattoos removed or changed with the relationship it was attached to ended. Pete Davidson recently had tattoos removed that he got during his relationship with Kim Kardashian. If something were to happen here, one fan assumes the tattoos wouldn't last much longer than the relationship.
However, while a lot of social media is being hyper-critical, that's not the case everywhere.
Instagram Is A Bit Friendlier To Ben Affleck And Jennifer Lopez
JLo posted the image of her new tattoo to Instagram, and while her post is getting a fair amount of the same negative response, it's also getting a bit more positive response. Even Dunkin Donuts, got in on the love fest, posting a series of emojis in response to the couple who recently appeared in a Super Bowl ad for them. Many fans and friends of Lopez think the tattoo is beautiful and that it really shows how much she and Affleck are clearly in love. Comments include:
you're so brave .. I could never lol
Love you both. So grateful for you.
Y'all Love make me wanna love foreal
On the plus side, the new tattoos on Affleck and Lopez are simple, fairly small, and black, which one has to assume was Lopez's decision, because while she apparently likes tattoos, she has been honest in the past that she doesn't like all of his.
Jlo Once Had A Very Different Opinion About Ben's Tattoos
Ben Affleck's tattoos have made headlines previously when he was spotted on the beach with a massive full back tattoo of a phoenix. It was so big and colorful that it had a lot of people talking and sprouted many opinions. One of those came from Lopez, and she admitted she hated it.
Back in 2016 when the tattoo was news JLo appeared on Watch What Happens Live and she was asked about Ben's tattoo. She said it was "awful," in part because it had "too many colors." She said all of Affleck's tattoos were too colorful, so we can guess that he didn't choose the design of her tattoo now.
Your Daily Blend of Entertainment News
Content Producer/Theme Park Beat
CinemaBlend's resident theme park junkie and amateur Disney historian. Armchair Imagineer. Epcot Stan. Future Club 33 Member.