Taylor Swift And Blake Lively: A Timeline Of Their Friendship Over The Years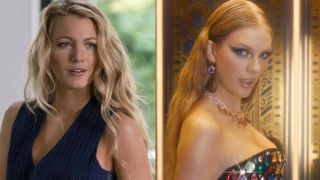 (Image credit: Lionsgate/Taylor Swift)
When it comes to celebrity friendships, there are so many we could point to that are the absolute best, whether it be Ryan Reynolds, Hugh Jackman and their fake beef, or Taylor Swift and Selena Gomez, or even Martha Stewart and Snoop Dogg. But today, we're going to be talking about Taylor Swift and Blake Lively.
The two have been the best of friends for many years now, and today, we're going to break down exactly where their friendship began, and how it's grown to what it is now.
September 2015 – Blake Lively Reveals Her Love Of Taylor While Clearing Up Confusion Over A Comment She Made
Starting off in 2015, we take a look at the first time we really see Taylor Swift and Blake Lively interact – and it was over an Instagram post that was misinterpreted by fans.
On Lively's social media, she made a joke about Swift's hit music video, "Bad Blood," and when fans accused her of shading the singer, Lively was quick to say that she actually loves her (via Entertainment Tonight):
This was only the beginning of an awesome friendship.
December 2015 – Blake Lively Friends Taylor On Instagram After Meet-Up In Australia
The first time we spotted Lively with Swift was when the two of them met up in Australia in December 2015, where they spent the day together doing miscellaneous fun things (via Refinery 29).
April 2016 – Taylor Swift Admits She Would Love To Raid Blake Lively's Closet
Another cute thing that happened not that long after is when Swift did a piece with Vogue on YouTube, for their "73 Questions" interview, and she admitted that she would love to go through Lively's closet, saying she wished she could "raid it."
July 2016 – Taylor And Blake Celebrate The Fourth Of July Together
They further cemented their friendship when they decided to celebrate the Fourth of July together at Swift's annual bash. In the picture that was posted on Instagram (via People) by a close friend of the songstress, Britany LaManna, Lively is seen with her husband, actor Ryan Reynolds, while Swift is seen with her then-boyfriend, actor Tom Hiddleston, as well as LaManna and her significant other.
December 2016 – Blake Wished Taylor A Happy Birthday
It's not bestie official if you don't wish the other a happy birthday. In December 2016, the Gossip Girl star took to Instagram (via Glamour) to share her birthday wishes for Swift, who also happens to share the same birthday with Lively's brother-in-law. She wrote in a cute caption:
How sweet, and honestly, the best birthday message.
November 2017 – Ryan And Blake's Daughter Was Featured On Taylor's Song, "Gorgeous"
A year later, another significant moment for them was when Swift decided to feature Reynolds and Lively's daughter, James, in the opener for her song, "Gorgeous," during her performance at Gillette Stadium, a performance that the couple was in attendance for (via People).
January 2019 – They Ring In The New Year Together
There's nothing quite like a fun New Year's Eve party, and the women decided to ring in the New Year together with some friends. Swift's Instagram showed off how she and a bunch of her friends decided to throw a costume party to celebrate the new year. You can see Lively dressed as Dorothy from The Wizard of Oz, and Swift dressed as Ariel from The Little Mermaid. So cute.
August 2020 – Taylor Name-Dropped Ryan And Blake's Kids In "Betty"
Swift seems to really enjoy Lively's kids, because she name-dropped her daughters in her song, "Betty," and said that she named all the characters in the tune after "her friends' kids", according to People. That is so incredibly sweet.
December 2020 – Another Cute Birthday Wish From Blake To Taylor
Birthday wishes all around. In December 2020, Lively once again took to Instagram to wish Swift a very happy birthday, saying that there was "happiness," because of her friendship with the tuneful talent.
October 2021 – Happy Halloween! Taylor Heads Out, Trick-Or-Treating With Blake's Kids
October is a fun time of year for the best family-friendly "scary" movies and snuggling up by the fire, but Swift decided to take to the streets with Lively and her kids. According to Daily Mail, she went along with Lively and Reynolds as they trick-or-treated with their kids – dressing up in a hilarious squirrel costume to boot.
November 2021 – Blake (And Ryan) Support Taylor On SNL
For a November 2021 episode, Taylor Swift was the musical guest on Saturday Night Live, performing a 10-minute version of "All Too Well" for her time there. Lively and Reynolds came to show their support, arriving at the show's afterparty, according to Elle.
November 2021 – Blake Also Directs Taylor's Music Video For "I Bet You Think About Me (Taylors Version)"
Something huge in Lively's career was her directorial debut, and that was actually when she directed the video for Swift's "I Bet You Think About Me," which co-starred Miles Teller and his wife, Keleigh Sperry Teller. This only further cemented their friendship and showed just how much Swift trusts Lively.
June 2022 – Blake Shows Her Love For Taylor At The All Too Well Film Screening
In June 2022, Lively and her husband showed their love for their pop superstar buddy when they were guests for the screening of All Too Well: The Short Film at the Tribeca Film Festival, according to People.
September 2022 – Blake Showed Off Her Bump With Taylor
Blake Lively and Ryan Reynolds hit a new relationship milestone when she was pregnant with their fourth child in 2022, and gave fans lots of photos of her baby bump on Instagram, one of which included a cute shot of her and Swift with it.
November 2022 – Taylor Shouts Out Blake When Accepting Award For Favorite Pop Album At The AMA's
In November 2022, Taylor was nominated and won the award for Favorite Pop Album at the American Music Awards, and in her acceptance speech (via People), she called out everyone that helped her work on the album, Red (Taylor's Version), which she won for, including Lively, who directed one of her music videos.
May 2023 – Blake Attends The Eras Tour With Her Daughters In Philadelphia
One of the most recent moments between the two of them was when Lively actually attended one of the Philadelphia shows of Swift's Eras tour, bringing her daughters to enjoy the performance, and had a blast while doing so.
Truly, this is a friendship that we hope lasts for years and years as they are just so dang cute together, and I can't wait to see what they do next. I need these two to direct some more videos because they're awesome.
Your Daily Blend of Entertainment News
Big nerd and lover of Game of Thrones/A Song of Ice and Fire. Will forever hate season eight. Superhero and horror geek. And please don't debate me on The Last of Us 2, it was amazing!