Tom Hanks & Meg Ryan And 25 Other Rom-Com Partners We Think Should Make Another Movie Together
All of these crazy kids should make another movie together, right?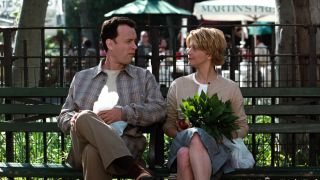 (Image credit: Warner Bros.)
It often feels like rom-coms are a dime a dozen, but the truth is that the best romantic comedies are ones built on several things. Fans of the genre enjoy snappy dialogue, inventive and/or realistic complications for the central couple, a swoon-worthy love story, and, of course, main characters portrayed by actors who have more than enough on-screen chemistry to make all of those pieces come together.
What's great about romantic comedies is that we've gotten more than enough couples like this over the past two plus decades, but some of them have either only partnered one time (which, granted, may be because their pairing is still relatively new), or haven't been in a film together for many years now. So, let's take a look at the (mostly) rom-com partners that we really think should make another movie together!
Meg Ryan And Tom Hanks
This duo probably feels like a no-brainer to you, and, well, it should! Meg Ryan and Tom Hanks have memorably joined forces for two rom-com hits, Sleepless in Seattle and You've Got Mail, plus the 1990 cult favorite romantic comedy, Joe Versus the Volcano, so there's no reason for them not to really round things out with a fourth film. I'd be down for a second chance romance where they learn to love again, wouldn't you?
Diane Keaton And Keanu Reeves
Yes, yes… Already I'm cheating here, but only a tiny bit. While the magnetic on-screen coupling of Diane Keaton and Keanu Reeves wasn't the main focus of Something's Gotta Give, I have spent the past 20 years wishing they were. So, let's get these adorably crazy kids back together! They could play any kind of couple (bickering marrieds who are clearly still hot for each other, two folks who shouldn't get together but can't help themselves, etc.) and I'd be in the theater on opening night.
Lana Condor And Noah Centineo
Honestly, there might not be a cuter couple on this list. The dreamy teen romance movie pairing of Lana Condor and Noah Centineo was, obviously, gifted to everyone with a Netflix subscription in the To All The Boys I've Loved Before trilogy, and there's a reason that so many people fell head over heels for them. These two sorta sparkle together on screen, and I'd love to see them reunite in a romance (or any comedy) that's got more of an adult edge to it.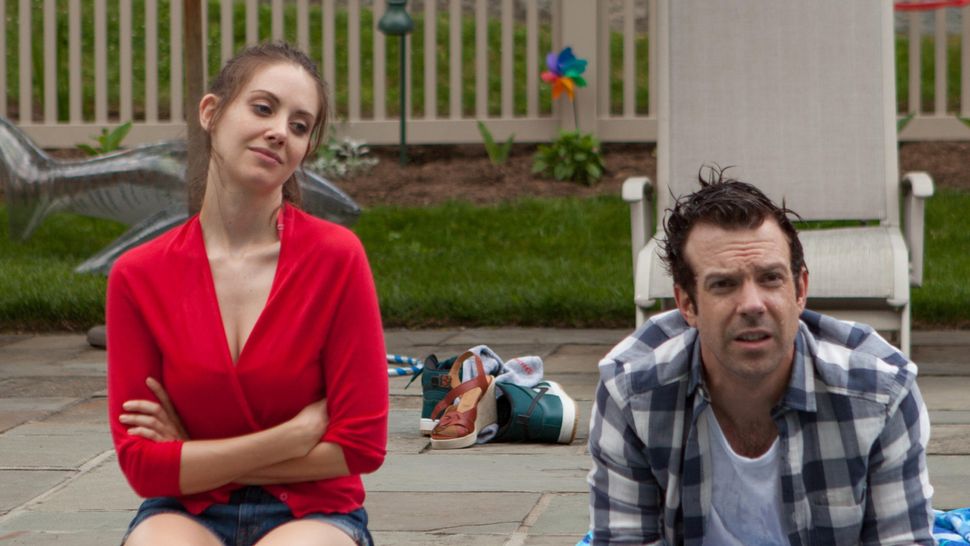 Alison Brie And Jason Sudeikis
We all adore it when a rom-com gives us something different, and 2015's Sleeping with Other People does just that with its story of friends who openly acknowledge their sexual tension, but purposely avoid doing anything about it so as to not screw up what they have. Alison Brie and Ted Lasso cast lead Jason Sudeikis are amazing as the friends in question, and I'd love to see them bring their casual, but still sexy, chemistry to another film.
Jenny Slate And Jake Lacy
A true pleasure of watching Obvious Child was seeing the relationship between Jenny Slate and Jake Lacy's characters develop as she has trouble revealing that she's getting an abortion several weeks after their one-night stand. They work great as a duo with a clear attraction that's impeded by a secret, and we'd really appreciate it if we could watch him warm her butter and make her tea in a movie that sees them as fully coupled characters.
Constance Wu And Henry Golding
I cannot tell a lie; some of the reason for Constance Wu and Henry Golding making the list is simply because we are all dying for the Crazy Rich Asians sequel we've been promised for several years now. While we wait, I'm hoping we can at least get those two into another fun rom-com where he can bring his posh, suave energy to meet her adorably spunky, girl-next-door verve.
Emma Stone And Ryan Gosling
What's not to love about Emma Stone and Ryan Gosling, especially when they star opposite each other in a romantic story? They were sweet, sexy, bantery, and slightly goofy together in Crazy, Stupid, Love, then had all of that with more emotional depth in La La Land, and also had the same chemistry in Gangster Squad, but with an added veneer of danger. It's been a rough few years; the world needs more of their exact thing, OK?
Kate Hudson And Matthew McConaughey
I know, I know! Matthew McConaughey doesn't make rom-coms anymore, but that's honestly no reason why he can't re-team with Kate Hudson, 20 years after they first hit the screen together in How To Lose A Guy In 10 Days. The engaging push-and-pull of their romance in that film can easily be translated to, say, a movie where each is portraying a lawyer on the opposite side of a big murder case. There! Someone make that movie!
Queen Latifah And Common
Just Wright might not be the first movie you think of when it comes to Queen Latifah or romantic comedies, but it's hard to deny that watching her play off of Common as they slowly go from not-quite-enemies to lovers was a genuine treat. Now all we need is the right vehicle for them so their individual easygoing charm can show us how well-matched they are on screen.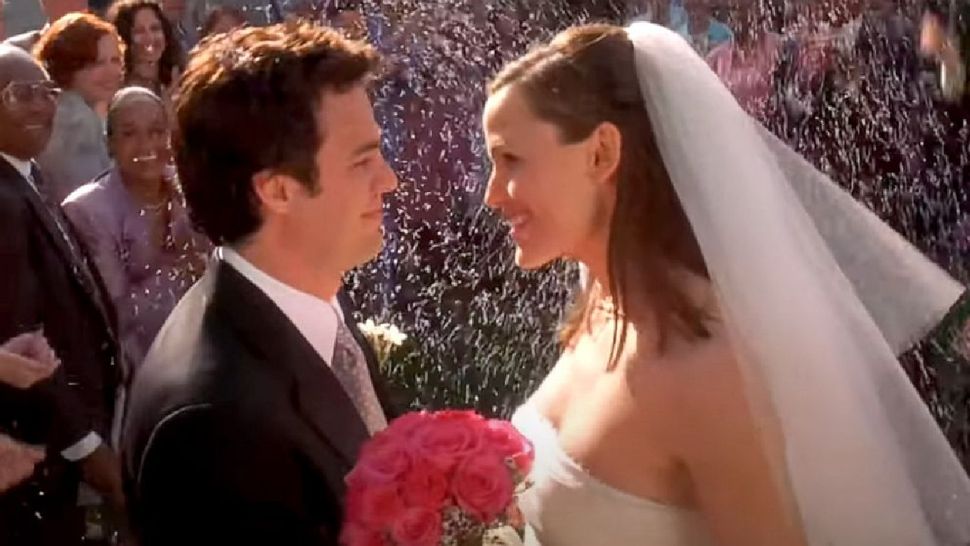 Jennifer Garner And Mark Ruffalo
There's a reason that 13 Going On 30 is still so popular almost two decades later. That reason is Jennifer Garner's joyful, weirdo energy as a teen suddenly transplanted to her adult life, sure, but it's also how Mark Ruffalo calmly reconnects with the childhood friend he'd long ago lost touch with. They're just sweet together, OK? We saw them in The Adam Project. We need more!
Sandra Bullock And Channing Tatum
The luminous and hilarious pairing of Sandra Bullock and Channing Tatum was definitely not on my rom-com bingo card, but damn, it was a joy to behold once we got it. In The Lost City, they were perfect as a starchy and grieving romance novelist and her incredibly sweet but somewhat dim cover model who get caught in a life-or-death situation in the jungle, and all I can hope for is that we someday have a sequel to enjoy.
Billy Eichner And Luke Macfarlane
If an opposites attract energy is your thing, there's no way for you not to enjoy the pairing of Billy Eichner and Luke Macfarlane. The Bros stars only just met up on screen in 2022, but we'd love to see them reunite in a rom-com that switches Eichner's intense characterization and Macfarlane's laid-back vibe around for additional laughs.
Meg Ryan And Hugh Jackman
Kate & Leopold is the rare romance where Meg Ryan's character is less than sweet for much of the film, but watching her early '00s driven career woman begin to soften with the attentions of Hugh Jackman's fancy man from the 1870s was a delight. Now if we can just get them to play off of one another when both are from the modern day, all will be right in the world.
Anne Hathaway And Chris Pine
We all know that The Princess Diaries 2 is so beloved that fans have wanted to bring the cast back for the now in development third movie for nearly 20 years, and part of that was because of the sweet, (sorta) slow burn love story between Anne Hathaway and Chris Pine's characters. While everyone would love to see them as a long-married couple in a sequel, we'd also take them as, oh, I don't know, bickering co-workers who can't deny their attraction, so let's stop stalling and get this coupling back on the big screen!
Julia Roberts And Hugh Grant
Look, I know that Hugh Grant is fully in his slimy villain era right now and is hilariously against even attempting rom-coms again. But! I think that makes the potential of this Notting Hill pairing coming back together even more appealing. Let him play a con-man who tricks Julia Roberts into falling in love, only to steal all her money and force her to track him down with a hilarious vengeance. I'd buy a ticket for that, OK?
Jennifer Lopez And George Clooney
Sure, sure. I'm cheating this entry a bit because, technically, Jennifer Lopez and George Clooney didn't star in a traditional rom-com together, but who among us can deny that they were HOT in Out of Sight? No one, that's who! I say we get these two into a proper romantic comedy, but maybe one that's not another Lopez wedding movie, just to switch things up.
Sanaa Lathan And Omar Epps
Yes, this is another, more direct, fudging of this article's concept, because Sanaa Lathan and Omar Epps were a romantic drama pairing in Love & Basketball… but they were SO GOOD TOGETHER. Watching them play out a long-term path to eventual happiness was extremely satisfying, but maybe this time we can use that chemistry of theirs for a couple that has more good times than stressful ones.
Cristin Milioti And Andy Samberg
The chances that Cristin Milioti and Andy Samberg will strike time loop movie gold again after Palm Springs is incredibly unlikely, and we wouldn't want them to try. Instead, why not let these two portray criminals on the run for separate crimes who accidentally cross paths and fall in love while they're on the lam? They can give us that same adorably wacky enthusiasm that we all loved the first time around that way!
Kristen Stewart And Aubrey Plaza
If you saw Happiest Season, then you saw the undeniable spark between Kristen Stewart and Aubrey Plaza as their characters (Who weren't even dating!) dealt with a lot of toxicity during Christmastime. They managed to genuinely bond (and look great doing it) over their similar relationship trauma, so I say we go ahead and give these two an even bubblier romantic comedy where they can actually freakin' end up as a couple!
Gemma Chan And Harry Shum Jr.
Obviously, we didn't get a real romance between the characters played by Gemma Chan and Harry Shum Jr. in Crazy Rich Asians, but the movie sure did set up the promise of fulfilling the epic love story that was a part of Kevin Kwan's novel trilogy. Fans got a very brief scene of them looking all cute and dreamy with each other and dancing during the mid-credits scene, so hear me now: WE NEED THAT ASTRID AND CHARLIE SPINOFF, ASAP!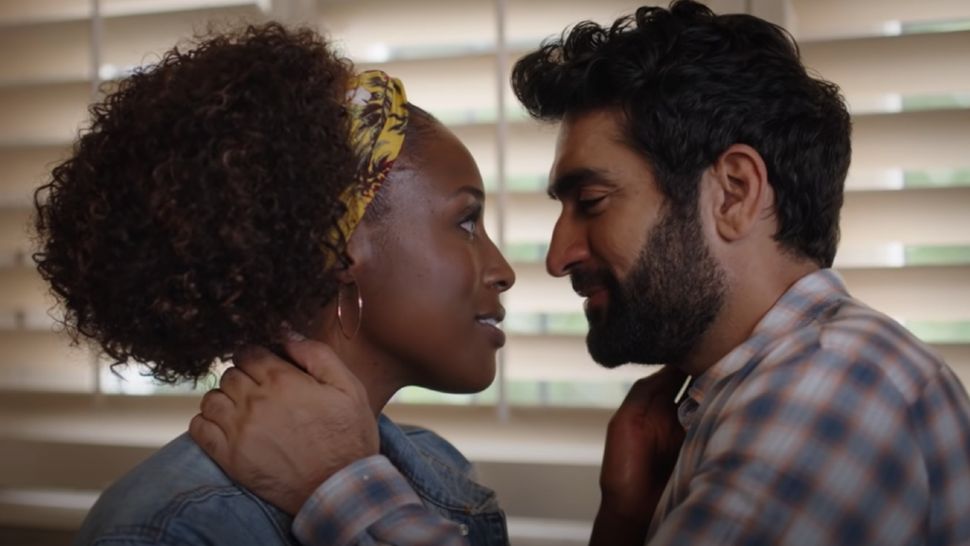 Issa Rae And Kumail Nanjiani
It may be hard to cast two people who have perfect romantic chemistry, but it could be even harder to find a duo who can portray the first glorious blush of falling in love, that same couple once they've begun to fall apart, and then play them as they start to get closer… because they're on the run after being accused of murder. Issa Rae and Kumail Nanjiani are those people, and we've been wanting them back on screen since The Lovebirds to do something just as crazy and rom-commy again.
Reese Witherspoon And Josh Lucas
If you're looking for a bickering duo who are hot together no matter what, that's Sweet Home Alabama's Reese Witherspoon and Josh Lucas, for sure. I'm sure they'd be great doing anything on screen, but also doubt anyone would mind if they paired for a story that would let them fight (and fight through) their attraction until they finally admit their feelings for each other.
Rachel McAdams And Domhnall Gleeson
You know what's coming, right? After being apart for a decade, it's About Time that Rachel McAdams and Domhnall Gleeson join forces again to bring fans another lovey dovey couple, and we don't even care what the set up is!
Sarah Hyland And Tyler James Williams
Never has it been more enjoyable to watch a woman who's not sure about the whole marriage thing date a man who's very much ready for a long-term commitment than in The Wedding Year, and that was because of the well-matched chemistry/comedic energy of Sarah Hyland and Tyler James Williams. I think these two would be fantastic in an action/adventure rom-com like The Lost City!
Kristen Bell And Dustin Milligan
Though Kristen Bell and Dustin Milligan starred in The People We Hate at the Wedding, which was more of a straight ahead comedy, they had a definite romantic comedy storyline and played off of each other beautifully. I'm imagining a cinematic rematch for them that involves both of their characters being messy and a bit angry this time, and I think they'll be a delight to watch once again.
Vivian Oparah And David Jonsson
Even though Vivian Oparah and David Jonsson are a very new rom-com pairing, as their starring vehicle, Rye Lane, debuted in early 2023, there's no doubting the fizzy joy one gets from watching their characters meet cute and end up slowly becoming attracted to each other over the course of one eventful day. These two can do anything together next, but I don't think anyone would mind a sequel where we get to see this romance progress!
If nothing else, while we wait to see if these rom-com partners get back together on the big screen, we can all at least go back and enjoy the amazing films they've already given us!
Your Daily Blend of Entertainment News
Yennefer's apprentice, Gilmore Girl; will Vulcan nerve pinch pretty much anyone if prompted with cheese...Yes, even Jamie Fraser.