Triangle Of Sadness Director Reveals Nauseating Way That Vomit Scene Came Together For The Best Picture Nominee
Just watching the scene could make you seasick.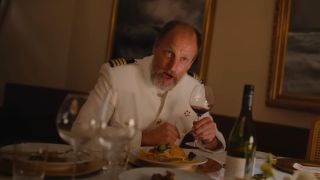 (Image credit: Neon)
Arguably one of the grossest scenes in a movie from 2022 was the vomiting scene in the Academy Award-nominated Triangle of Sadness. The film from Ruben Östlund, while literally gross, has become a beloved satire, and at the center of it is this puking scene that happens on a yacht during a storm. Now that this eat the rich satire has received multiple Oscar nominations, the director and production designer are breaking down one of the film's most memorable, and nauseating, scenes, and explaining just how hard it was to film.
A major focal point of Triangle of Sadness is this barf-tastic scene on the open seas. It's a drawn-out dinner sequence where all the rich guests go to a fancy dinner during a massive storm. The boat is shaking like crazy, and it's clear that they really shouldn't be eating during this storm, for multiple reasons. While the scene is disgusting, it's also a massive reason why the film ended up being on various best of 2022 lists, because it shows off the technical mastery of the film. When it came to putting the scene together, Östlund talked about the logistical challenges, and the real seasickness that happened on set, explaining in a BTS video from Deadline:
You know they went to great lengths when the crew had to take seasick pills, and they weren't even on a real boat. They were on a set that was rigged up so it could move around like a boat. Östlund discussed how they created the movement of this tipsy scene, and how that impacted the movie, saying:
Josefin Åsberg, the production designer, explained that they did this so they could control the movement of the boat, and be very precise with how the ocean treated the boat during the movie. She also went into detail about how they designed the puke in the movie, noting that it was different from character to character.
It's so fascinating to hear about all the strategy and organization that went into creating one of the most chaotic scenes I've ever seen. Hearing Östlund describes how he created this iconic moment in one of the best under-the-radar movies of last year further proves how good Triangle of Sadness is. It's visceral and chaotic, however, it achieves that energy through precision and technical innovation.
Triangle of Sadness is now up for three Oscars, and while on the surface it's a bit shocking a visceral satire like this would get nominated, once you think about it a bit, its technical mastery and magnificent writing make it clear why it is among 2022's most prestigious films.
If you haven't seen Triangle of Sadness and this legendary -- or infamous depending on how you look at it -- scene you can rent the movie on Amazon (opens in new tab). Also, as the Academy Awards get closer, be sure to check out how to stream all the Oscar-nominated movies, and if you are looking to see another film like Östlund's brutal satire, be sure to check out the 2023 movie schedule.
Your Daily Blend of Entertainment News
Riley Utley is a Weekend Editor at CinemaBlend. She spent many years working in local journalism across the country writing about art, news and sports. One of her favorite films is When Harry Met Sally and she walks around constantly quoting Ted Lasso.