Watch Karen Gillan Hilariously Pitch Her Idea For Scream: The Musical
Karen Gillian's hilarious pitch for Scream: The Musical.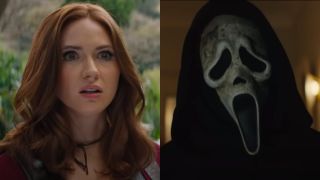 (Image credit: Sony Pictures Releasing/Paramount Pictures)
Scream is considered one of the best horror franchises out there by many fans. The latest sixth installment had the best opening weekend for the horror franchise with rave reviews from the critics. As the Scream franchise isn't stopping anytime soon, could that mean a musical will eventually be in the works? If that should be the case in the future, leave it to Jumanji star Karen Gillan to give her hilarious pitch for Scream: The Musical.
If Scream were to be a Broadway-adapted musical, I can only imagine the slash-slinging choreography Ghostface would be showcasing as this villain character goes for their next kill. But of course, Ghostface wouldn't be singing until the mask is eventually lifted to prevent giving away the killer's identity. Scottish actress Karen Gillan has her own musical number for what she could imagine Scream: The Musical would entail. Take a look at her hilarious TikTok pitch below:
In the video, the Doctor Who actress said when she was in school, she tried to sell her own Scream merchandise of her hand-drawn characters. As sales were going low, she decided to perform a song and dance that she wrote herself with spirit fingers and twirls. While Gillan admitted her little original musical number may have negatively affected her "cool factor," I admire her gumption for putting herself out there.
It may not come as a surprise to you that the Oculus actress eventually wants to be in a Scream movie with a particular role in mind- the killer. But with her Scottish roots being heard at the other end of the iconic scary phone call. To make it less obvious she's the killer, though, she'd have to don her impressive American accent for the movie's initial run first.
It wouldn't be completely left field if Scream were to become a musical. A lot of popular movies have been adapted into Broadway shows with the horror genre not being left out of that transition. Christian Bale's American Psycho was turned into a stage musical with mixed to positive reviews. Mel Brooks' Young Frankenstein also became a stage musical and was expected to be ABC's next big live musical back in 2020. Unfortunately, the pandemic canceled the live broadcast with no word if ABC will ever reschedule it. There are also stage-adapted musical versions of Carrie, The Evil Dead, The Silence of the Lambs, and more. That's why if Scream were to be next on this musical lineup, it wouldn't come across as surprising to me at all. Especially if there were to be a musical number called "Do You Like Scary Movies?"
If Broadway has seen Karen Gillan's Scream: The Musical pitch, they already have a hilarious tune they can consider for their song lineup. Or they can at least use her song to advertise the musical itself. You can watch all of the Scream movies on your Paramount+ subscription.
Your Daily Blend of Entertainment News
Just your average South Floridian cinephile who believes the pen is mightier than the sword.