Why Tim Burton's Beetlejuice 2 Is Such A 'Hard' Film To Make, According To The Sequel's Former Writer
It'll take more than saying 'Beetlejuice' three times to get this sequel made.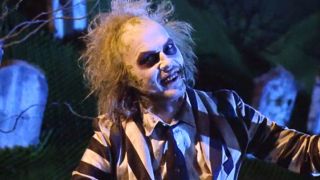 (Image credit: Warner Bros.)
It's been 33 years since Beetlejuice hit theaters, and the film has enjoyed an enduring legacy ever since. From taking on a cult-like status to laying claim to one of the best musical movie moments in history, the horror-comedy classic left fans wanting more. While there have been rumors for years that a sequel was on its way, Tim Burton has yet to start rolling cameras again. And according to a screenwriter who was once tasked with creating a script for a sequel, there's a reason why it's been such a hard movie to make.
While many classic films of the '80s have had sequels or reboots, Tim Burton's Beetlejuice remains a bit of a rarity. Several years ago Seth Grahame-Smith started working on a script for Beetlejuice 2. While the announcement of a potential sequel - finally - had the internet abuzz, he made some significant progress, to the point that he even met with Tim Burton and Michael Keaton to discuss the direction he could take.
Fast forward a few years later, and it seemed as though the sequel plans had been abandoned. The screenwriter didn't reveal all the details as to what happened when he recently spoke with Collider -- but he did share why he thinks it's so difficult to get the film off the ground:
Knowing that the reality of the follow-up is more "if" than "when" might be disappointing for some fans. Seth Grahame-Smith later made it clear that one thing in particular has to align in order for the sequel to happen:
One thing is for sure -- it's impossible to imagine a Beetlejuice sequel without Michael Keaton, who seems to be busier than ever these days. So it makes sense why his approval is a must-have, even though that means we might be waiting forever.
Still, there may be some hope for fans. Earlier this year, there was speculation once again that a sequel was in the works -- this time with an added rumor that frequent Tim Burton collaborator Johnny Depp would be on board. Until something more concrete is announced, just keep saying "Beetlejuice" three times and hoping for the best.
Your Daily Blend of Entertainment News
Thank you for signing up to CinemaBlend. You will receive a verification email shortly.
There was a problem. Please refresh the page and try again.