13 Fascinating And Hilarious Things We Learned About George Clooney During His AMA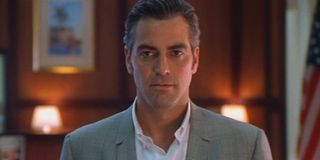 George Clooney is a badass. Let's just get that on the record once again because it needs to be said, especially after reading through his Ask Me Anything. The popular actor took to Reddit today to hype Monuments Men and let fans fire off a long series of questions at him, and like a champion, he was completely honest and consistently funny.
From bomb scare pranks he pulled off on his longtime friend Richard Kind to embarrassing PR snafus that Brad Pitt engineered against him, there were no subjects Clooney refrained from spilling the beans about, and the end result was one of the most endearing Ask Me Anything sessions we've ever seen.
So, without further ado, here are 13 fascinating things we learned about the actor during his chit chat today…
1) Brad Pitt played an epic prank on Clooney. While the men were shooting Oceans 12 in Italy, Pitt made a fake handout, photocopied it and passed it around the town. It told residents not to look George in the eyes and only to refer to him by his character name "Danny Ocean". The next morning, there was a write-up about it in the paper, and Clooney immediately vowed revenge.
They called me il divo, and said that I was treating the crew like shit. When it got into the paper I came downstairs and Brad had the paper in his hand, and I said "You're mine from here on out." Brad just said, "Please don't harm my children." Yeah, he's done some pretty rotten things.
2) Clooney has no problem with people making fun of him at awards shows. There have been only a few times in which he's even witnessed someone step over the line about any celebrity during a broadcast, and every time, the jokes have bombed to the point where he felt bad for the comedian.
You know I got really good by Tina and Amy the other day and I'm working on getting them back in a big way.
3) He wanted to do From Dusk Til Dawn because it was so much different than what he was doing on E.R.. Apparently, Tarantino guest directed an episode of the hit hospital drama. While they were on set, he approached Clooney and asked if he would be interested in doing a vampire film with Juliette Lewis and Harvey Keitel. He agreed almost immediately.
I was playing a pediatrician on a hospital show and all of a sudden I get to murder people? I thought that was pretty great. I got to spend 8 weeks or so in the Titty Twister, what was the downside?
4) Clooney loves cobbling. Apparently when he's in between shooting movies, directing movies, writing movies and hanging out with some of the most beautiful women in the world, he's making shoes. If that sounds familiar, it's probably because Daniel Day-Lewis has the exact same hobby, though if Clooney is to be believed, it's not even a contest as to which man is better.
Let me just tell you this. When Daniel Day-Lewis was spending all his time playing Lincoln, I was just fixing shoes. He's spending all the time focused on the hat, and the pipe, and getting into character, and I remained focused - with the overalls and the hammer.
5) Clooney is better at basketball than Leonardo DiCaprio, or at least that's what he claims. A Reddit user asked about a supposed one-on-one game between the two men. The former E.R. star confirmed it happened and bragged about the final result. Apparently, George is "sneaky fast" and has a "good bank shot that people hate".
That was a fun day. It's always fun when you play people younger than you and win. We're playing a bunch of six year olds tomorrow.
6) Clooney went through an awkward stage. You may think he came out of the womb with a badass smirk and enough confidence to ask out one of the hot nurses, but looking back, the actor apparently went through a couple of stages in which he wasn't exactly making the smoothest decisions---like back in 1985 when he appeared on the Merv Griffin Show with yellow socks and a mullet.
The whole set is howling. This stuff lives on forever. So everyone has awkward phases, just hope they're not recorded for everyone to see for the rest of time.
7) He takes a motorcycle trip every year. Alongside his buddy Randy, Clooney carves out some time to see part of the world by taking a break and riding his motorcycle. It's a tradition at this point and it has several benefits that go beyond just the basic fun of hitting the road with the wind whipping through your hair.
It's a hobby and a head clearing thing.
8) More of Clooney's movies have bombed than you remember. That's the great thing about George. Most people might not be willing to set the record straight on how often they've failed, but he can't do anything but shoot from the hip. Confident honesty is part of his very nature; so, when asked about his own movies that he would recommend, he took the time to remind people that not everything he's done has gone over with the general public.
Well, I've done a bunch a films that people think of now as hits or classics but were actually bombs. Out of Sight bombed. It didn't make money at all and Out of Sight was a really really good film. And it still holds up. There were films that we always thought would be more successful than they were. I thought Three Kings was probably going to be more successful than it was. It's a really good film too.
9) Clooney tried to sing "Man of Constant Sorrow" and was embarrassed by how bad it sounded. He and the Coen Brothers never really talked about singing, and he just sorta assumed he'd knock it out of the park whenever he needed to enter the studio. The second he started to actually belt it out, however, he could tell everyone in the room was horrified by how terrible it sounded.
I went into the studio with T Bone Burnett and the Coen brothers and sang my version of Man of Constant Sorrow and they were all looking down at the ground and kind of shaking their heads and they play it back and it's just terrible, and I think great, they're going to have to tell me they're going to have to bring in another guy to sing.
10) Clooney has taken a lot of good away from shooting shitty movies. Asked if he regrets playing Batman, Clooney gave a pretty philosophical answer. He said the amount of fun you have on set is rarely proportional to how good the ultimate film will be. So, it's really difficult to look back and think of the great films as happy memories and the bad films as negative memories when it's a whole lot more complicated than that. (For the record: he was "embarrassed" by the Bat nipples, though).
It's the kind of thing where the memory of the film is very different than how it was reviewed, because it's months out of your life and you end up making close friends or having great experience on films that don't necessarily work. And that's a tricky thing to come to terms with.
11) Clooney made Monuments Men because he was sick and tired of making negative movies. More often than not, Clooney is a pretty optimistic guy. He's almost always got a good sense of humor about situations, and he tries to see the best in people. When he looked back at the movies he's directed, however, he realized almost all of them are pretty damn cynical. So, he and his partner Grant Heslov set about to find a project that showed how wonderful the world can be.
Grant had read the book and said maybe this is a film. We took it to Sony and they loved the idea. It was less about art in what we were looking for and more about looking for a new interesting story. I didn't know the story before.
12) There will be a ton of special effects in Tomorrowland. Don't expect a full-on plot summary or anything super in-depth about what to expect. Clooney has played the PR game for far too long to give anything away. Consequently, he was very vague when discussing Tomorrowland during the AMA, but he did indirectly let everyone know it will be very CGI heavy.
I literally have a harness on and I've been hanging from 30 ft from 4 different blue screens and literally as we are talking they are all staring at me because I had to get down to do this. I have all these wire hanging off of me.
13) Clooney pranked his buddy Richard Kind with an airport bomb hoax. This is the type of shit only Clooney could get away with. He was heading to the airport with his buddy Richard Kind (Spin City) when he snuck a prop from the movie Solaris into his bag. It was a lunchbox-sized device that lit up and had all kinds of strange tubes. They found it during the initial search, and poor Richard was shocked and confused about what the hell was happening.
They ran it through the machine and pulled it off and asked, "What is this? Did you pack your own bag?" He had no idea what to say. Of course this was pre-911. If you did that now it would be a very horrible thing, but it was very funny at the time. Anyway, don't do that at home.
Enthusiastic about Clue, case-of-the-week mysteries, the NBA and cookies at Disney World. Less enthusiastic about the pricing structure of cable, loud noises and Tuesdays.
Your Daily Blend of Entertainment News
Thank you for signing up to CinemaBlend. You will receive a verification email shortly.
There was a problem. Please refresh the page and try again.