For $2.4 Million You Can Buy The McAllister House From Home Alone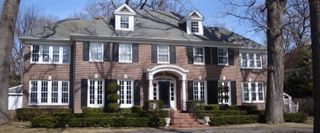 I prefer to imagine that the McAllister's house from Home Alone is frozen in time exactly as I remember it, draped in heavy curtains and floral wallpaper, the lawn jockey out front to be knocked over by the pizza delivery truck, the snow building up under the windows. But since John Hughes picked a real house in a Chicago suburb to star in the film, and since time marches forward, the "Home Alone house" in Winnetka, Illinois has changed as much as Macaulay Culkin has in the last 21 years, but you'll only have the chance to buy one of them.
This morning I got one of my favorite press releases in some time, including a link to the Coldwell Banker website that lists what they're actually calling the "Home Alone home." Tragically the early 90s decor and giant four-poster bed seem to be gone, but if you've got the $2.4 million to spend you can land yourself a pretty nice, gigantic home-- especially useful if your Uncle Frank and his kids are all coming to town for Christmas. Check out the video tour of the home below, and if you're sorry you didn't buy the Ferris Bueller house, you've got another chance to own a piece of suburban Chicago movie history.
Staff Writer at CinemaBlend
Your Daily Blend of Entertainment News
Thank you for signing up to CinemaBlend. You will receive a verification email shortly.
There was a problem. Please refresh the page and try again.